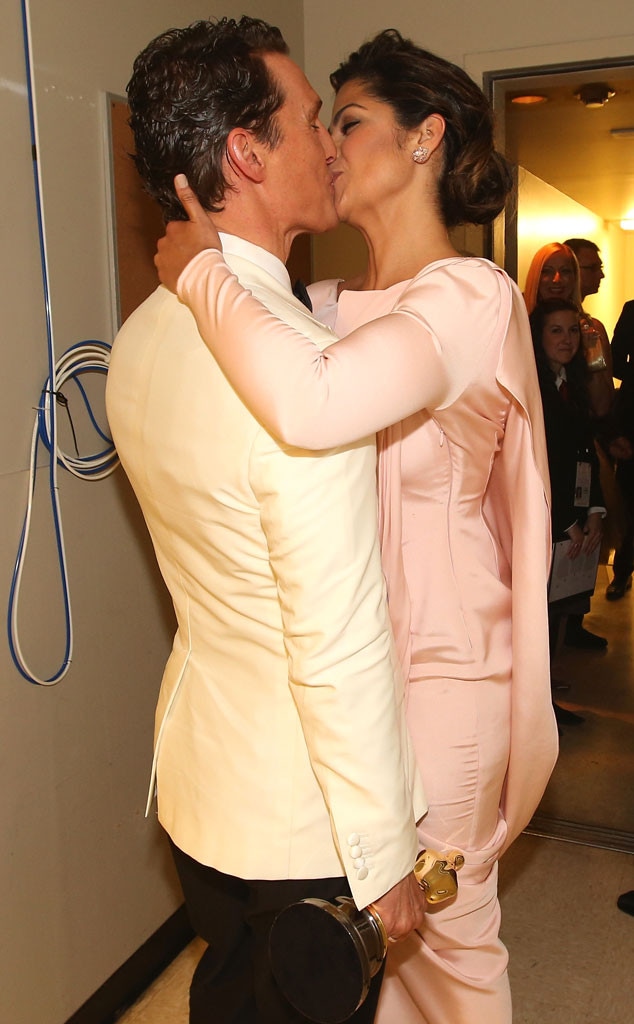 Christopher Polk/Getty Images
Matthew McConaughey wanted some one-on-one time with Camila Alves after the Oscars.
After the Dallas Buyers Club star nabbed Best Actor at Sunday's Academy Awards, the first-time winner reportedly told The Sun, "We won't stay at the afterparty long—I want to go home and make another baby!" But as it turns out, McConaughey's rep telsl E! News the actor never said those words.
The couple, who married in 2012, are already parents to Levi, 5, Vida, 4, and Livingston, 14 months.
One thing is for sure, at least: McConaughey is on top of the world. "I'm having a ball right now," he tells People. "I try to give a lot to my life and the people in it, and I know they sure give back. I have a lot to be thankful for." His career reinvention has earned its own name: McConaissance. "Usually if your career turns great, you're getting into the debit section on the family or fatherhood," McConaughey says in the new issue. "But everything is at a good level."
McConaughey made sure to thank his family during his acceptance speech, saying, "To my wife, Camila, and my kids, the courage and significance you give me every day I go out the door is unparalleled. You are the four people in my life that I want to make the most proud of me. Thank you."
The movie star—who beat out fellow nominees Christian Bale, Bruce Dern, Leonardo DiCaprio and Chiwetel Ejifor—said his three children are beginning to ask questions about what daddy does for a living.
"They understand that papa goes to work, that there's a difference between reality and movies, and that he can be in more than one place at a time," McConaughey, 44, said in the press room after his big victory. "I took Levi to set on Lincoln Lawyer and let him watch a scene and then let him watch it on the monitor, and for him it was a magic trick—you can be in more than one place at one time."
He continued, "This season, where you're going, 'We're going out tonight because there's an award show. Remember when we were back in New Orleans and lived in that house? The work that dad did then, the work we all did, people are shining a light on it today, so if you do your best right now, it can have reciprocity later and come back and pay residuals.' That's the lesson were trying to get to them."