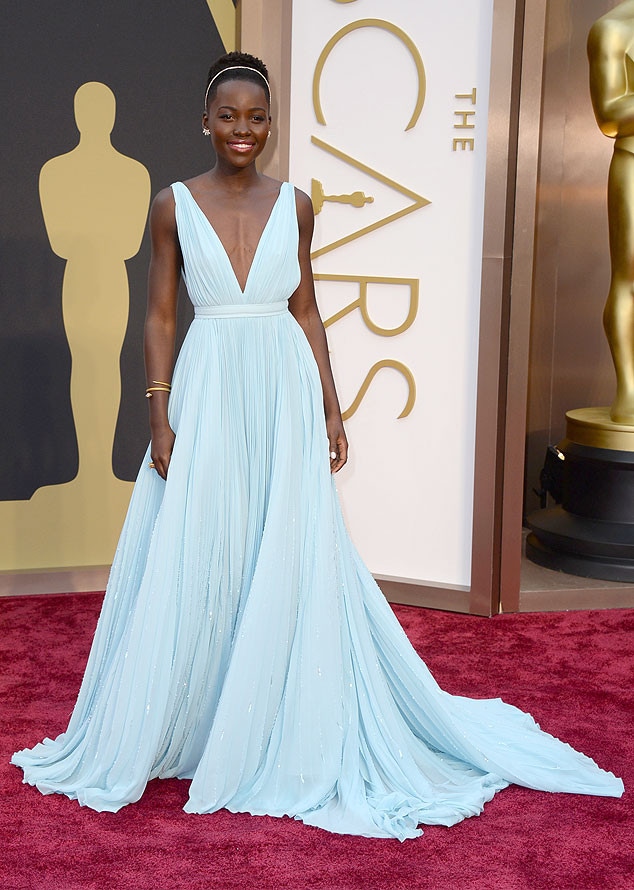 Jordan Strauss/Invision/AP
Spoiler alert: Lupita Nyong'o will definitely be making our 2014 Oscars best dressed list.
The 12 Years A Slave star has been wowing us all awards season but we think she may have saved the best for last. In fact, we're pretty sure there was a collective gasp around the world when the first time nominee stepped out of her limo in a pale blue custom-made Prada gown with Fred Leighton headband and jewelry. Surprisingly the pastel hue isn't something we've seen on the actress before but since her reason for choosing it was quite personal we're sure she'll be repeating it.
When Ryan Seacrest caught up with she explained she selected the color because "It's a blue that reminds me of Nairobi, so I wanted to have a little bit of home," referring to HER hometown in Kenya. That's not the only personal touch she added. While walking her matching fingertips down the Mani Cam she pointed out her gold ring and explained: "I have a little froggy here which is my family totem."
Watch:
Lupita Nyong'o Dazzles at 2014 Oscars
An Academy Award newbie, Lupita gushed: "I feel so blessed that my first job out of school could have come with such recognition. I'm really excited to be here!" She adds: "I didn't grow up watching the Oscars so for me it was something that I really came to understand was a big deal when I was in college.  My dream was to be an actor I didn't know it came with all this."  And who knows, by the end of the night "all this" could include a Best Actress win. We're rooting for you Lupita!