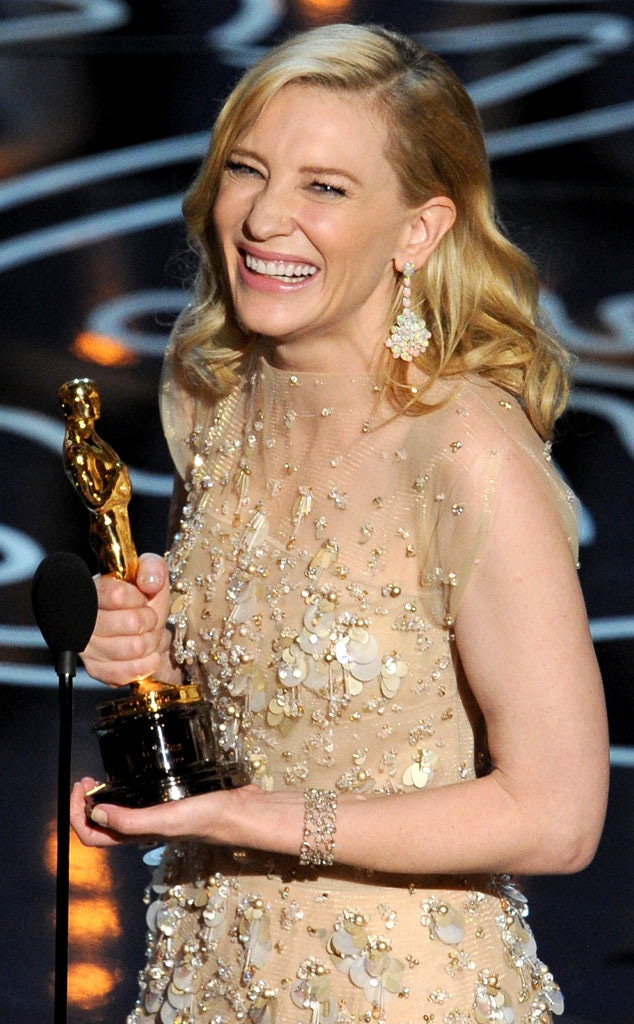 Kevin Winter/Getty Images
Ever since Blue Jasmine hit theaters early last year, Cate Blanchett was considered the frontrunner to win the Best Actress Oscar.
Sure enough, she came in first tonight.
"Sit down, you're too old to be standing!" the Australian beauty mock-scolded the audience upon accepting her Academy Award for her role as a spoiled New York socialite who invades her sister's life in San Francisco after her world is turned upside down when authorities catch on to her Ponzi-scheming husband.
This is Blanchett's second Oscar, having won Best Supporting Actress in 2005 for channeling Katharine Hepburn in The Aviator.
The 44-year-old thesp collected pretty much every honor possible, including the Golden Globe, a Screen Actors Guild Award, a BAFTA and, just last night, an Independent Spirit Award en route to Oscar night.
And though her voice wobbled at times, she maintained her poise throughout while thanking everybody, ever, and paying tribute to her fellow nominees.
"Thank you so much to the Academy," Blanchett gushed. "As random and subjective as this award is, it means a great deal in a year of extraordinary performances by women. Amy Adams, everything you do, but your performance in American Hustle blew my mind. Meryl, what can I say? Sandra, I could watch that performance till the end of time, and I sort of felt like I had.
"Julia, hashtag, suck it. You know what I mean?"
Well, presumably Julia Roberts knew what she meant.
"Judi Dench," she continued, "what a career, she's not here tonight, becaue at the age of 79, [another] film ws so successful that she's in India doing a sequel. What a career that is, if I can hope…"
She can pretty much expect.
Jordan Strauss/Invision/AP
Blanchett then kicked off her slew of thanks—which encompassed everyone from her family to both of her agents (stateside and in Australia) to everyone at the Sydney Theatre Company, where she and hubby Andrew Upton have served as artistic directors—with Blue Jasmine writer-director Woody Allen.
"I'm accepting an award for an extraordinary screenplay by Woody Allen. Thank you so much, Woody, for casting me. I truly appreciate it...And perhaps to those of us in the industry who are still foolishly clinging to the idea that female films with women at the center are niche experiences, they are not. Audiences want to see them and, in fact, they earn money. So the world is round, people!"