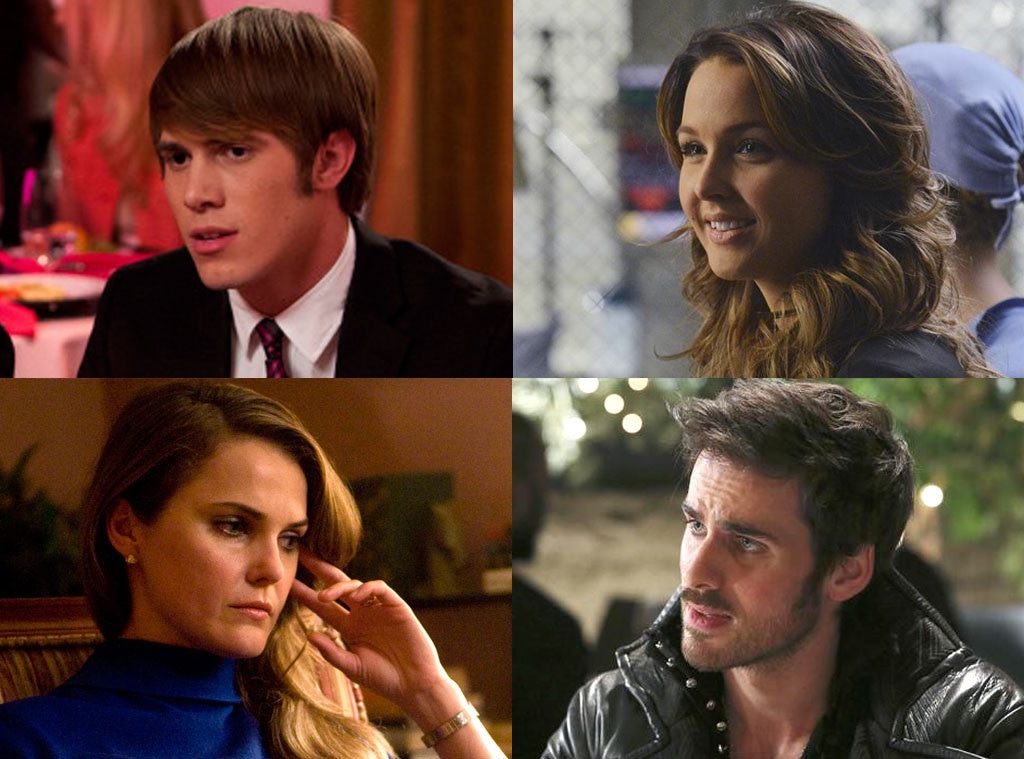 ABC, FOX
Hey, don't forget to take your vitamin this morning. You know, the one that's jampacked with TV scoop and beneficial to your health!
In today's edition of Spoiler Chat, we've got scoop on a massive Once Upon a Time reveal coming up that could change everything, as well as a status report on one of Glee's hottest love triangles.
Plus, we've giving out spoilers on The Americans' season two premiere (which airs tonight), Klaus' love life on The Originals and trouble for a fan favorite Grey's Anatomy couple when the show returns tomorrow night...
Heather145: We  need some Once Upon a Time info that is not already out there. GO.
There is a huge, HUGE (like, mind-blowing) reveal involving two major characters thatno one will see coming. Another surprise family connection. Just us, or it's all starting to feel weirdly incestuous!? Everyone is related to EVERYONE! Anyhoodles, this reveal will go down before the season is over. Buckle up, y'all.
Lisa: Any love triangle scoop on Glee?! I'm rooting for Ryder and Marley to get together!
Marley. Will. Choose. "I think there's a sense of closure," Blake Jenner teases of what's ahead for the Ryder-Marley-Jake love triangle, with Melissa Benoist adding, "Definitely!"
Elijah: In desperate need of some Grey's Anatomy spoilers!
Jo is one busy doc when the ABC hit returns tomorrow night. "When the show returns it picks up right where episode 12 left off so Alex and Jo find out that obviously his dad is in extremely bad shape and she is trying to be a supportive girlfriend ad there for him and she's also trying to be a supportive friend to Stephanie who has been publicly humiliated," Camilla Luddington previews. Oh, and she's dealing with Alex's surprise proposal, which leads to an explosive fight we shared exclusively with you. But will Alex and Jo be able to weather the storm? "It causes for some drama that could definitely erupt their relationship," Luddington teases of the proposal fiasco. Uh oh!
Andy: So excited for season two of The Americans tonight! What can we expect from the premiere?
One badass lady lookin' out for another one, which we love. "I kind of get myself into a little bit of trouble," Annet Mahendru previews of Nina in the new season. "Elizabeth, Keri Russell's character, takes me under her wing and then really fun things happen after!"
Lucia: Any chance of Klaus getting a love interest on The Originals soon?
Not really, according to Joseph Morgan! "I feel like he is and sort of always has been a loner," he explains. "That doesn't mean there won't be liaisons with other characters, you know, he's not a hermit, but he finds it very difficult to relate to people." That being said, we're hearing of a flirtation coming up soon for Klaus.
Danielle: I'll take anything you've got on Reign. My obsession knows no limits!
Prepare for one shocking hookup in Thursday's episode that you will not see coming. Oh, and a possible death, too!
Sean M.: Law & Order: SVU scoop, please!
While Alec Baldwin is quitting public life, we managed to get a new detail about his SVU character: his name! Baldwin will play Jimmy "Mac" MacArthur when he guest stars in Mariska Hargitay's directorial debut, executive producer Julie Martin spilled on Twitter.
GOT TV QUESTIONS? Tweet them to @kristindsantos with hashtag #spoilerchat!
SPOILER CHAT comes out every Monday, Wednesday and Friday at 9 a.m. ET/6 a.m. PT. Bookmark the link!