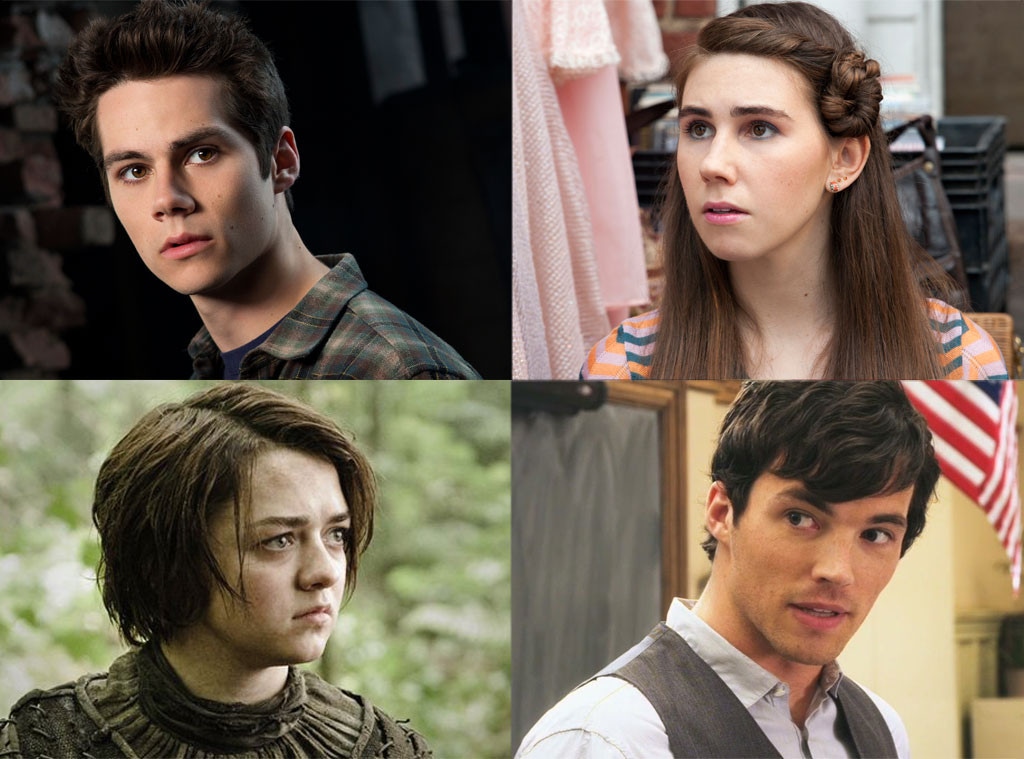 TGIW.
No, we're not confused. Yes, we're aware it's not Friday, but why not celebrate Wednesday when it means a whole new batch of spoilers are fresh out of the TV Scoop oven?
In today's Spoiler Chat, we've got scoop on the fan favorite character Game of Thrones fans might not love as much this season, an update on Teen Wolf's very important Save Stiles campaign and details on Pretty Little Liars' gamechanging season finale.
Plus, we've got inside info on a new man coming to court on Reign, Girls' downward spiral, Bates Motel's season two premiere and more...
Daphne: What's coming up for Juliette and Avery on Nashville?
The little green monster will be paying a visit to Juliette, who can't help but be jealous of Avery's past relationship with Scarlett, especially when they both can't help but notice that the crooner may be in need of some help. Love triangle activated.
Michael N.: Ugh, why isn't it March yet so I can watch Game of Thrones?! What can we expect?
Ch-ch-changes, which you might not like! "Arya's really changing this year and I'm not sure people are going to like who she's becoming," Maisie Williams previews of the fan favorite Stark. "She's turning a lot darker and she's not quite as fun as she used to be… It's a different Arya than we've seen before."
Laur_darb: Any Pretty Little Liars scoop about my favorite TV bad boy, Ezra?
Sounds like the season finale will be a gamechanger, with Ian Harding even wondering where the hell the show can go next. "I don't know what I'll be doing next season," he admits, adding that things will never be the same in Rosewood. "They just can't after what happens."
Thomas: Seriously concerned for Teen Wolf's Stiles! Is he really the big bad this season?
Not according to Tyler Posey, who dishes, "The ninjas are definitely the main villains of the season." But that doesn't mean we should stop worrying about Stiles. "You'll definitely see [him] go more in the direction that you can already see him going in," Posey spills. "Of course, It's Teen Wolf, so we're going to pop up with a couple of different villains in there, so there's no shortage of evilness to come."
Ashley: In desperate need of info on Reign!
A new suitor is coming to French Court! The CW period drama is currently looking to cast a very gorgeous and masculine visiting nobleman who will woo one of our ladies. And get this? He may be sticking around for quite some time, like possibly for season two (fingers crossed). Quel interesting, no?
Jared: Shameless is killing it this season. Any scoop to share?
Though her "downward spiral" continues in the next few episodes, you should take comfort in knowing that there is hope for Fiona. "There's some light at the end of the tunnel," Emmy Rossum promises us. "We'll see." And one bonus tease: "An impending arrest." Gah, is it Sunday yet?!
Shannon C.: Obsessed with Girls this season. What's coming up for my favorite girl Shosh?
OMG, downward spiral alert! Expect to see Shosh "go a little farther towards the bottom," Zosia Mamet teases of the rest of season three, "then, hopefully, pick herself up a bit." As for our girl's reaction when she learns that Ray and Marnie have been hooking up? Mamet teases, "You guys will have to wait and see!"
Meghan: Cannot wait for Bates Motel to start up again! What can we expect?
A death! That's right, another death will be going down on the A&E hit, but we can tell you Norman is not the one doing the killin'.
GOT TV QUESTIONS? Tweet them to @kristindsantos with hashtag #spoilerchat!
SPOILER CHAT comes out every Monday, Wednesday and Friday at 9 a.m. ET/6 a.m. PT. Bookmark the link!