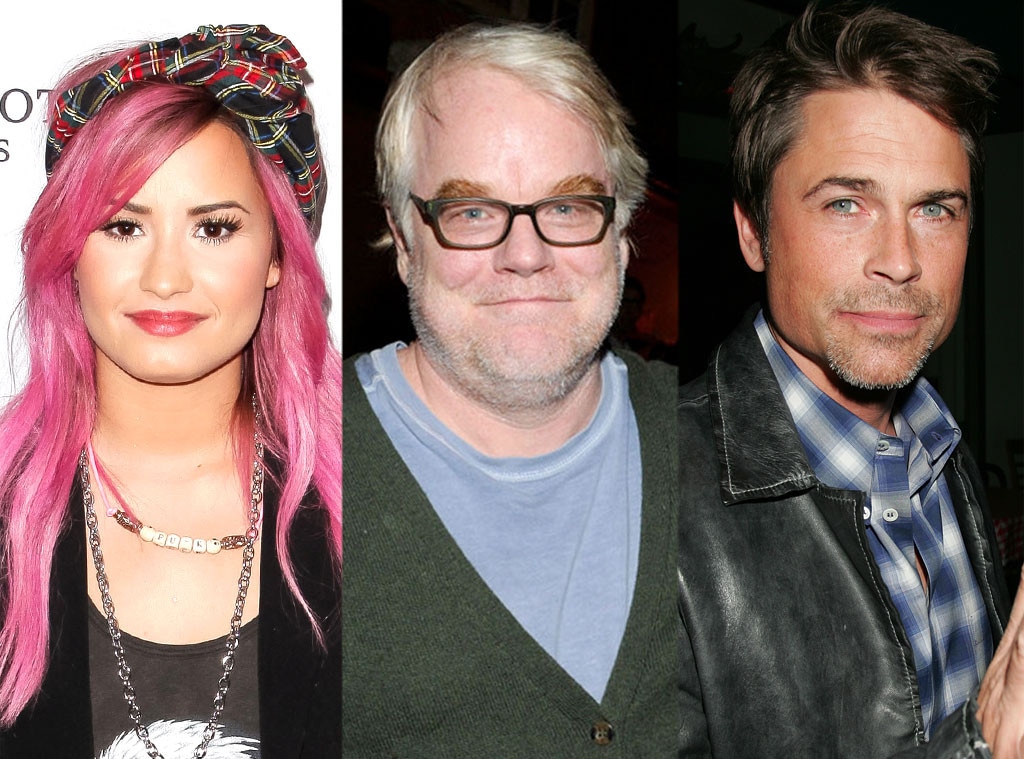 Getty Images
Philip Seymour Hoffman's death following an apparent drug overdose triggered an instantaneous flood of appreciation for his body of work—as well as a side-show debate about whether the Oscar winner was tragically fighting a losing battle all along or ultimately was responsible for destroying his own life.
Count Demi Lovato and Rob Lowe, both celebs who have publicly struggled with personal demons, took to social media today to defend those who suffer from addiction, calling it a disease and not a lifestyle choice, and further emphasize the dangers related to any level of drug use. 
"You are not smarter than your drug," tweeted Lowe, who opened up about going to rehab in his 2011 book Stories, I Only Tell My Friends. "Or more knowledgable, powerful, stronger or anything else. Addiction is an equal opportunity killer."
"Philp Seymour Hoffman's sad, untimely passing has me angry," the 49-year-old actor continued. "I want more great work from him! I want less destruction from drugs/alcohol."
Lovato, who just last week marked three years since she underwent treatment for drug use, depression and other ailments, also offered her thoughts on addiction and drugs in general.
"I wish more people would lose the stigma and treat addiction as the deadly and serious DISEASE that it is," she wrote in a lengthy Twitter post. "Drugs are not something to glamorize in pop music or film to portray as harmless recreational fun. It's not cute, 'cool' or admirable.
"It's very rare when people can actually predict their addiction and even then, you never know when too much is going to take their life or take a bad batch of whatever it is [they're] using," Lovato added.
AP Photo/The Canadian Press, Nathan Denette
"It's time people start really taking action on changing what we're actually singing/rapping about these days because you never know if you could be glamorizing a certain drug to a first time user or alcoholic who could possibly end up dead because they end up suffering from the same deadly disease so many have already died from. This stuff is not something to mess with. Why risk it? Addiction IS a disease. Please spread the word so we can take the taboo out of discussing this illness and raising awareness to people of all ages. RIP Philip Seymour Hoffman.. An INCREDIBLE artist who lost his life to this horrible disease.. May you rest peacefully and in complete serenity now that your pain is gone. God Bless..."
Jared Padalecki caught major flack after calling Hoffman's death "stupid" on Twitter. The Supernatural star later clarified that he certainly didn't mean the late actor himself was "stupid," but that he still wouldn't characterize his death as a "tragedy," either.
A playwright friend of Hoffman's discovered the actor unconscious in his New York City apartment yesterday morning and called for help. Hoffman, 46, was pronounced dead at the scene, and law enforcement sources later confirmed to E! News that he died with a needle in his arm and multiple bags of heroin and other drug paraphernalia were found in his home.