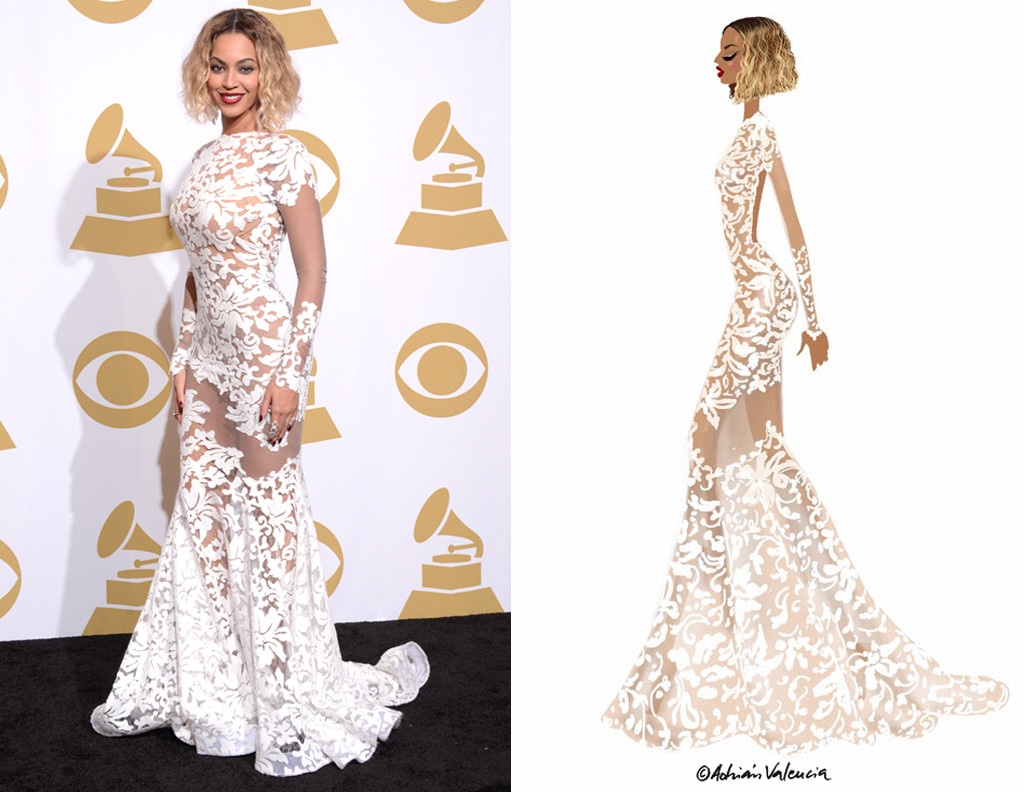 Adrian Valencia; Dan Steinberg/Invision/AP
If the question is can we ever get enough of Beyoncé's fashion, the answer is no. No, we cannot.
That's why we're loving these sketches of Bey's Grammys outfits by artist Adrian Valencia that her stylist, Ty Hunter, posted on Instagram today. And can we all agree that Beyoncé looks utterly fabulous, even as a cartoon drawing?  
The drawings are of Beyoncé's sultry, sheer black "Drunk in Love" performance outfit and her equally-sexy post-performance outfit: a sheer white lace gown by L.A.-based designer and Project Runway alum Michael Costello. 
Bey's performance outfit was styled by Karen Langley, and her white lace gown was styled by Ty along with his styling partner Raquel Smith. We caught up with Ty, who told E! News exclusively all about his incredible experience styling Bey. 
Adrian Valencia; Kevin Mazur/WireImage
While some stylists rely on pulling designs straight off the runway, Ty revealed he found his winning look from designer Michael Costello through social media. "Michael ended up being an Instagram follower of mine, I followed him back, and his designs were beautiful," says Ty. "I also remembered him from [Project Runway]."
And if even though Bey looked perfectly polished in her gorgeous lace gown, the fitting was actually super last minute. "I did the fitting the day of. [Michael] didn't even have her measurements," says Ty. "But when she put it on, it fit perfectly!"
Ty also dished on why Beyoncé went with wet hair for her whole performance look. "Stylist Karen Langley was brought on board, and she had a bunch of different ideas for the performance look," revealed the stylist. "The whole look was hot and sexy. We wanted to emulate the video, and that's how the wet hair look came about."
At the end of the day, Ty and the entire styling team knew that they killed it with Bey's white lace dress. "It's just great to see the response of the white dress," says Ty. "She felt beautiful. Everyone felt in awe when she walked out. Sometimes you just know something is going to hit hard."