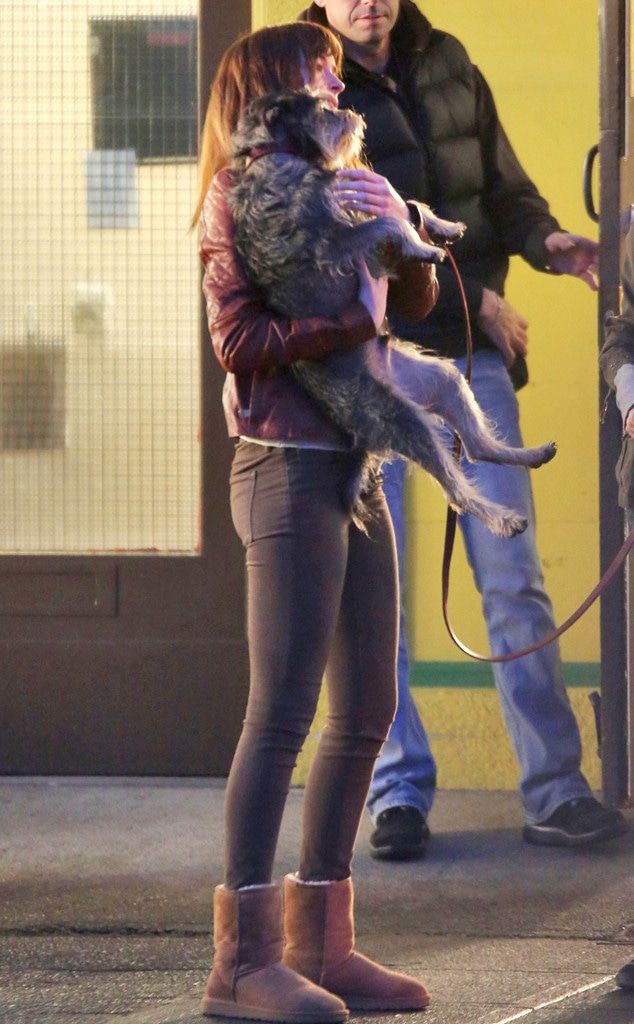 JKING/FAMEFLYNET PICTURES
Dakota Johnson may have great chemistry with her Fifty Shades of Grey costar Jamie Dornan onscreen, but off screen, the actress has connected with someone else—and we're not talking about Johnson's boyfriend Jordan Masterson, either.
E! News has learned that the brunette beauty has fallen in love with a dog on set, and has been hanging out with the adorable four-legged friend when she's not shooting the E L James adaptation.
It's not clear whether the pup is her own, but a source tells us that she follows the dog around everywhere. After ending the hardware scene, Dakota jumped back out of the SUV that Max Martini (Christian Grey's bodyguard) put her in during the scene, to go over and see the furry cutie.
JKING/FAMEFLYNET PICTURES
Aside from Johnson and her new bestie, a source tells E! News that Dornan is very humble and signs autographs for his fans when he's not shooting. The film's star stayed in Vancouver for the holidays with wife Amelia Warner and their newborn baby girl. Dornan also says that Warner is doing really well since becoming a mommy.
Source also shares that everyone on the cast seems to get along great, noting that Dornan and Martini spent a lot of time joking around while on set yesterday.
E! News recently reported that Vancouver locals haven't been too happy with the cast and crew filming in their town. While shooting a scene in the rain, "Neighbors at the building were upset over the noise and water flying everywhere. An older man continued to ruin scenes by opening his window and shaking a cowbell. He did not stop until they came to some sort of a resolution with producers.
"Another person in the building told production that if any water comes into his house, they will have to pay for the water damage. Residents are not happy with them shooting there. Eventually they met half way with the cowbell resident—they had to move the rain machine to another location."
Fifty Shades of Grey hits theaters Feb. 13, 2015.
—Reporting by Michelle Falls