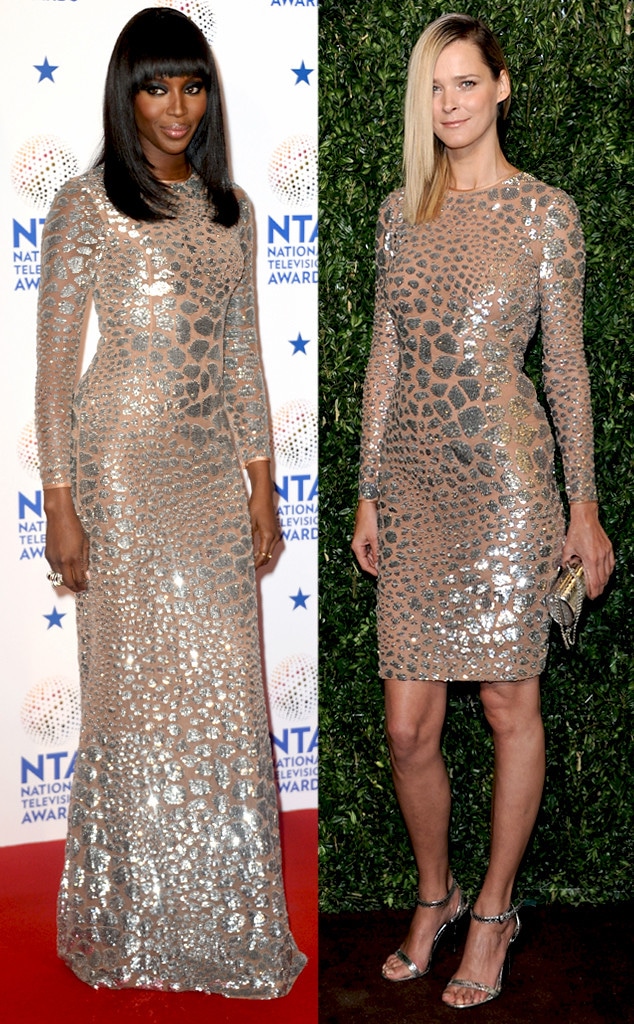 Ian Gavan/Stefania D'Alessandro/Getty Images for Michael Kors
Why do we have a sneaky suspicion Michael Kors sneakily set up this fashion battle? What designer wouldn't want Naomi Campbell and Carmen Kass—two of the hottest supermodels of all time—duking it out in their dress? Also, we're pretty sure neither beauty would pick this weird and wild giraffe print without some persuasion.
And so we're faced with an unfair fight. Two statuesque celebs with perfect figures in a slinky silver stunner. Sometimes are job is so hard...
We're lucky that length seems to be the only difference between these two designs. The Face judge is rocking the floor-length gown version of this zoo-animal chic while the elegant Estonian went for some above-the-knee action. We want to vote on the mini approach, but something about Carmen's side-swept hair is throwing us off. Should locks count against her in a true clothing battle? We don't know, but the Brit beauty's bangs are too perfect to be completely disregarded.
We say Naomi takes it by a hair, literally. What's your say?
AA Fashion Police Jan 23 Poll