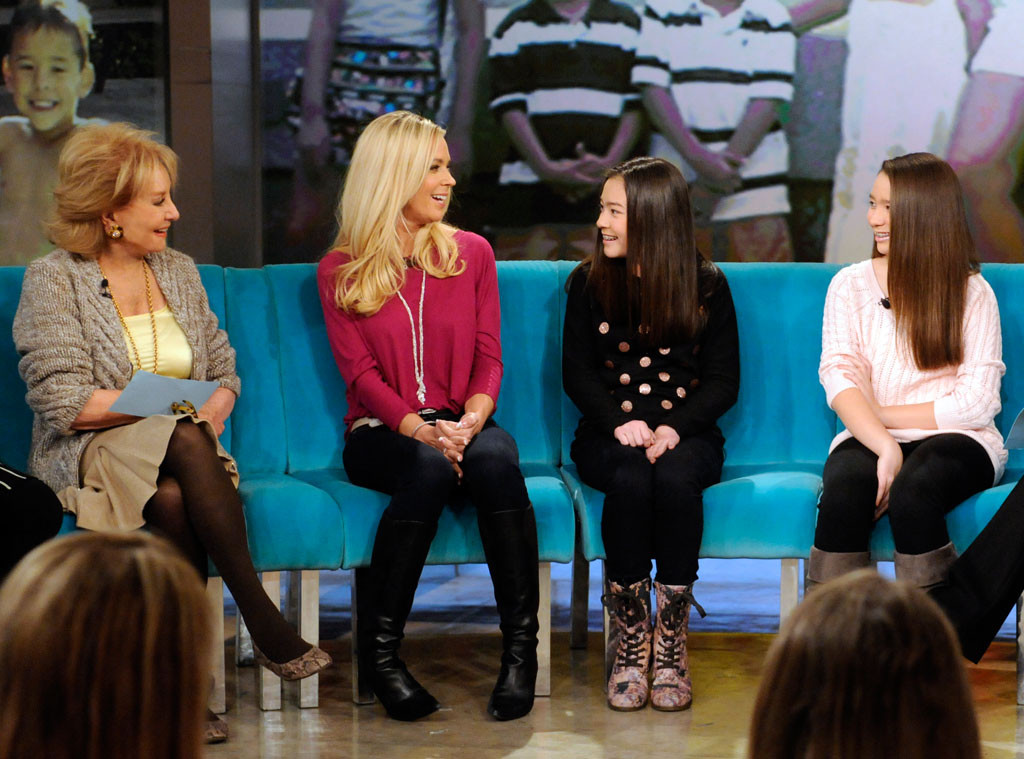 (ABC/Jeff Neira)
After their painfully awkward appearance on NBC's Today last week, Kate Gosselin's 13-year-old twin daughters redeemed themselves during a Monday, Jan. 20, interview on The View. Unlike their sit-down with Savannah Guthrie, the sisters seemed more at ease (and actually talked!) on the ABC show.
Kate called the twins "the most amazing big sisters on the planet," though they raised their eyebrows at the notion. "They're my left- and right-hand girls."
"What kind of stuff do you do around the house to help your mom?" co-host Sherri Shepherd asked. "I don't help, so Cara?" Mady deadpanned, turning to her sibling. "Okay, well, I unload the dishes," said Cara, the oldest of eight children. "Mady loads the dishwasher. She does do some work. We wipe down the counters and clean up dinner."
Whoopi Goldberg politely asked the girls to "pretend she's not here," motioning to 38-year-old Kate. The co-host then asked them what kind of music they like. "If I'm going to be 100 percent honest, I don't like Justin Bieber," said Mady. "But I… [like] One Direction," she said, adding that she's a fan of Niall Horan. Cara, meanwhile, would rather listen to Demi Lovato than the boys of 1D.
Jenny McCarthy then gently asked the twins how they coped with their parents' messy breakup by sharing her own story. "When I was in my twenties, my parents went through a divorce," the blond co-host told the twins. "It was really hard at age 20. How did you guys handle watching your parents go through a divorce but also watching it happen in front of everyone?"
After a brief pause and a nervous laugh, Mady replied, "Honestly, it wasn't hard for us. I think it was harder for [our mom], definitely. It didn't really affect me and we still saw both parents. We were little, we were like 8 or 9, so we knew what was going on, but we didn't see the stuff [in the media]."
Kate jumped in, saying, "I kept them sheltered, and yeah, it's necessary and it drew the nine of us so much closer. There's really nothing off limits we don't talk about. Clearly there's hard times and strange discussions, and probably not preferable things, but we're very open and the girls hang out in my room with me every night and we chat."
Moderator Barbara Walters then said, "To have six younger brothers and sisters, that's not easy. Tell us about that." Kate turned to Mady and quipped, "You've waited your whole life for this question."
Mady sighed and said, "You ruined my dramatic silence!" as the audience laughed and applauded.
Nine-year-old Sextuplets Aaden, Alexis, Collin, Hannah, Joel and Leah "are annoying," Mady said. "It's not even just the group! It's every single one of them."
The girls retreated when asked about their relationship with Jon Gosselin. "Do you see your father, too?" Walters asked. Mady shrugged her shoulders before Kate prodded her to "answer" the question. The twins merely shrugged and looked to their mom for relief. She, too, kept quiet about the situation.