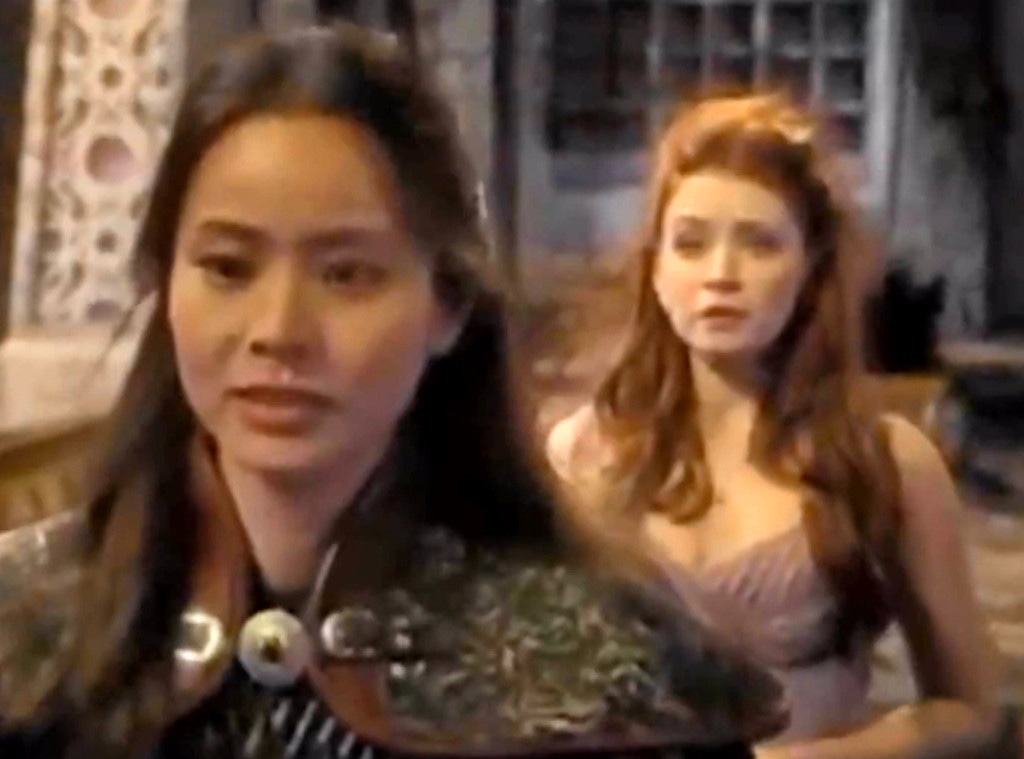 Youtube
Mulan and Aurora shippers, prepare to feel some feels. 
Back in October, Once Upon a Time stunned viewers when they revealed that Mulan (Jamie Chung) was gay and in love with Princess Aurora (Sara Bolger). The twist was  a welcome surprise as some viewers believed the warrior was in love with Prince Phillip (Julian Morris), but a majority of fans had hoped for a Mulan-Aurora romance. And when we chatted with Chung at the 2014 Winter TCA Press Tour, she told us how "glad" she was when the ABC fantasy hit's creative team decided to go there with Mulan's storyline. 
"When I was filming that, it was like an ongoing inside joke between Sara and I. Like, 'I secretly really care about you,' Chung recalled. "And the audience as well, there was this conspiracy online, like, 'Mulan loves Aurora!' And I'm really glad that the writers listened because I really do think that's what they planned from the beginning. They're all about twists and like, why not? It felt so natural to begin with."
However, the pause button was pressed on the storyline as Mulan joined Robin Hood's band of Merry Men to spare herself the pain of being around the woman she's in love with after learning Aurora and Phillip were expecting their first child. Chung has yet to make another appearance on the hit ABC series.
But Chung is totally down to pay Storybrooke another visit, saying, "Are you kidding me? I think it would be really disappointing to leave the audience with this giant question mark. I would go back in a heartbeat." 
Chung is currently a series regular on Believe, NBC's highly anticipated J.J. Abrams' drama which debuts Monday, March 10, making a return to OUAT a bit difficult. 
I am committed to  [Believe], but I don't think that door is shut," Chung said. "So I am hoping there is something we could do to answer those questions."
And should fans see Mulan again, Chung is hoping for a full-blown romance for the character, saying, "I would something to sink my teeth into with that character."
But was Mulan ever in love with Prince Phillip, as some fans had previously thought? Not according to Chung!
"It's a sense of camaraderie. She had gone on this journey and she's forever been searching for Princess Aurora and finally they find Aurora and she's left out in the cold," Chung explained. "And then Phillip disappears and it;s her journey with Aurora finding Philip. So I think she's been able to develop a really deep relationship with both characters and I think ultimately her heart was with Aurora."
And feel free to squeal away, Mulan and Aurora shippers!
(E! and NBC are both part of the NBCUniversal family.)