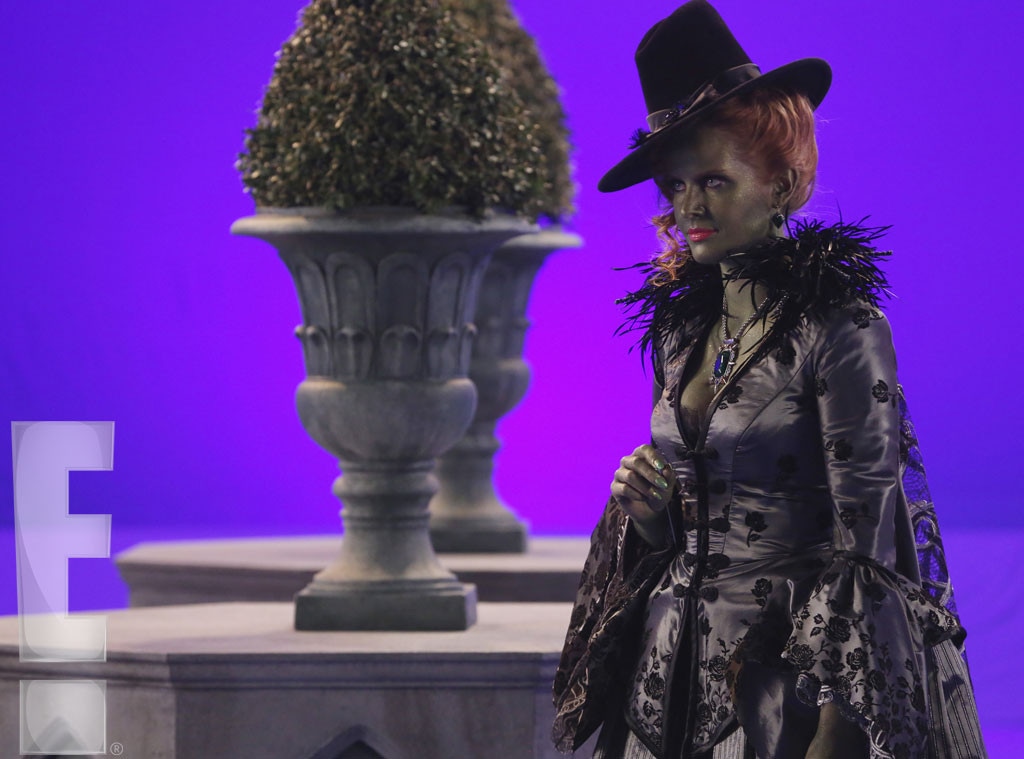 ABC
Holy flying monkeys! How amazing does Rebecca Mader look as the Wicked Witch of the West on ABC's Once Upon a Time!?!
We were first to reveal that Lost's Rebecca Mader would be joining ABC's smash drama to play the newest villain going up against Storybrooke's forces of good—and now we can finally spill details on her role as The Wizard of Oz's  Wicked Witch of the West, a k a Elphaba!
Check out these first look pics of Mader in the iconic role, looking positively terrifying, and fabulous, atop her broomstick. So many chills. Can we call her Elphabulous?!! No, of course we can't.
Immediately following Sunday night's spell-binding midseason finale, Once Upon a Time gave fans a sneak peek at all the magic and mayhem that's coming up in the second half of season three. Including, of course, the introduction of the show's new big, bad, villain: The Wicked Witch. We are told that THE WWOW (you're welcome for another terrible nickname) will square off against Regina, forming a new, formidable opponent to the Evil Queen, now that she and Rumple have made amends.
MORE: Catch up on all the marigcal twists from tonight's midseason finale of Once Upon a Time!
While many fans were speculating the new villain might be Cruella du Ville (which, granted, would also be pretty fantastic), Once has decided to dip into the rich world of The Wizard of Oz, and it remains to be seen if other Oz characters will pop up further down the line. (Can we put in a plug now for Kristin Chenoweth as Glenda?) And don't forget, show creators Adam Horowitz and Eddie Kitsis love to put their own spin on well-known characters, so we certainly can't assume that Elphaba is just as we've seen her in the Oz books, the movie or the Broadway sensation Wicked.
Fellow Once Upon a Time star, Robbie Kay (Pan), tells us he is thrilled that Mader will be joining the cast as Elphaba in episode 13.
"It's certainly an exciting prospect for the show, so it will be interesting to see how they put a twist on [her character]," Kay told E! News. "To be honest, it would be fantastic for them to sort of delve into that whole Wizard of Oz land and to see whether they can implement more characters into the story." Fingers crossed we'll be seeing Dorothy and her little dog, too!
Once Upon a Time will return with new episodes on...March 9 on ABC. Anyone else feel like you might be mellllltttiiinnnnng in a sea of anticipation until then?