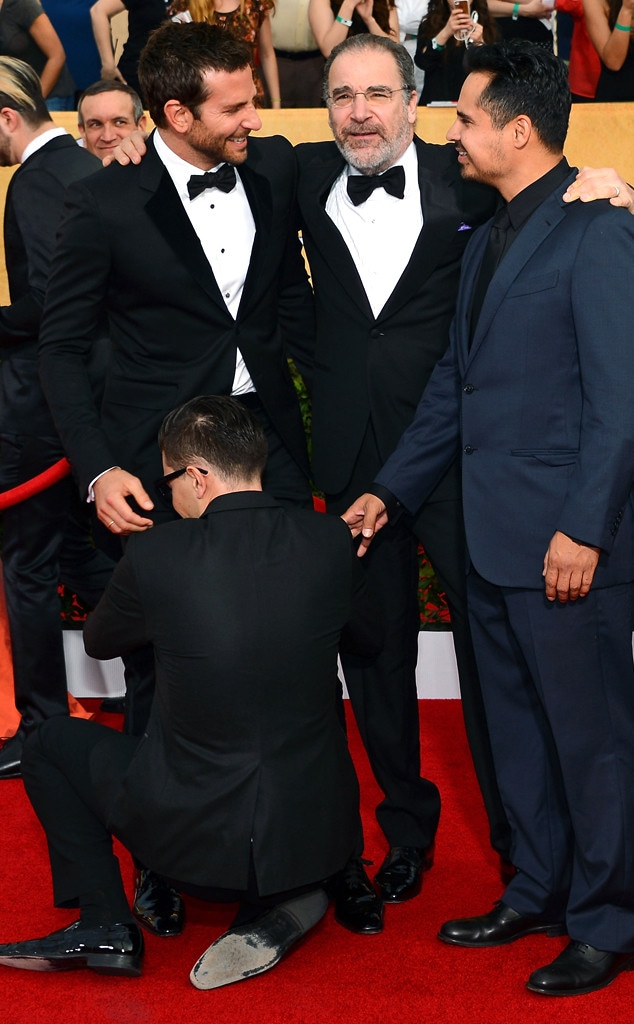 Ethan Miller/Getty Images
Vitalii Sediuk strikes again.
The 25-year-old Ukrainian journalist somehow made his way onto the red carpet at the 20th Annual Screen Actors Guild Awards in L.A. on Saturday, Jan. 18. Once there, he wrapped his arms around an unsuspecting Bradley Cooper and nestled his face in the Silver Linings Playbook star's crotch.
Cooper, 39, initially appeared to laugh off the gag as his American Hustle costar Michael Peña and actor Mandy Patinkin look on in disbelief. They then helped Cooper pry Sediuk from the actor's legs.
Given his past antics, Sediuk's SAG Awards stunt was relatively tame.
Ethan Miller/Getty Images
In February 2013, presenter Jennifer Lopez successfully thwarted Sediuk's plans to ruin Adele's acceptance speech for Best Solo Pop Performance at the 55th Annual Grammy Awards. "It's such an honor to receive this award," Seduik said before J.Lo intervened and cut him off. "I love you, Adele."
Seduik did not have a ticket or credentials to the star-studded awards show. He managed to walk past security guards and strolled down the red carpet before entering the Staples Center with nominee Katy Perry. He then took Adam Levine's seat in the second row, directly behind Justin Timberlake and Jessica Biel. "I feel like Lindsay Lohan," he told E! News.
The prankster, who is a reporter for Ukraine TV channel 1+1, was jailed overnight. He was charged with one count of willfully leaving a spectator area and entering a performance area and one count of interfering and delaying program participants. He faced spending up to six months in jail if convicted.
"If he stays clean for three years, he'll be able to withdraw his plea and the charges will be dismissed," his lawyer, Anthony Willoughby, told The Hollywood Reporter in June 2013. As part of his plea agreement, Sediuk vowed to never again go near L.A. Live, the 27-acre entertainment complex that houses Staples Center and the Nokia Theatre. Still, he hinted that he had more tricks up his sleeve.
"Let's be honest," Sediuk said. "There are only two major events in L.A. Live: the Emmys and Grammys. I think I can survive not attending those two events. There's so much happening in Los Angeles."
Seduik has a history of upsetting celebrities. During the Venice Film Festival in September 2011, for example, he gifted Madonna with her least favorite flowers. The Material Girl was caught on camera rolling her eyes after graciously accepting the present. The singer was then overheard telling an assistant, "I absolutely loath Hydrangeas. He obviously doesn't know that." Thinking it was a genuine gesture, Madonna later apologized.
That prank paled in comparison to the stunt he pulled in May 2012, when Seduik kissed Will Smith at the Moscow premiere of Men in Black 3. The visibly angry actor responded by shoving and slapping the TV presenter. "He's lucky I didn't sucker-punch him," Smith said of the unwelcome shenanigans.
In February 2013, just weeks after the Grammys, he unsuccessfully tried to crash the 85th Academy Awards. He wore a Bjork-inspired swan dress and carried a blue bucket filled with 15 Oscar replicas. Police stopped Sediuk from making it inside the awards show and ultimately let him go with a warning.
Will Sediuk pop up at the 86th Annual Academy Awards on Sunday, March 2? Only time will tell.