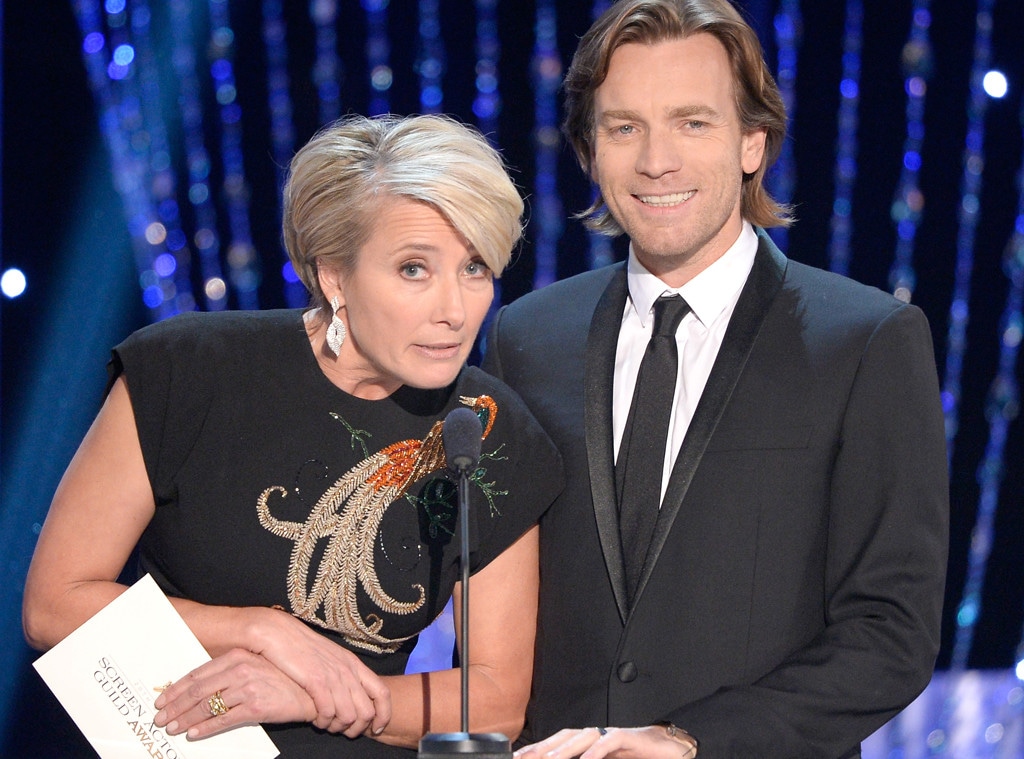 Kevork Djansezian/Getty Images
Bryan Cranston totally fangirled over Emma Thompson while accepting his SAG Award, and no one blames him one bit. The Saving Mr. Banks star is entertaining the crap out of us during this awards season, and we are eternally grateful. And if Walter White loves you, everyone does. 
Thompson continued her reign of absolute ridiculousness at the 2014 SAG Awards, and though she didn't win for Best Actress, she won the night. Which is all that really matters in the end. Let's recap Emma's amazing SAG Awards evening, shall we?
REUTERS /LUCY NICHOLSON/LANDOV
1. Photobomb Time: Lupita Nyong'o remained her flawless self on the red carpet and looked crazy-gorgeous, but Emma couldn't stop herself from photobombing her with the weirdest face while Lupita posed for pics. If we were the 12 Years a Slave star, we would make sure to get that photo so we could frame it and cherish forever. That's a meme waiting to happen. Get started, Internet!
2. F--k Those Heels! After last week's public heels-shaming at the Golden Globes, Emma learned her lesson when it came to uncomfortable shoes. This time around, she opted for Christian Louboutin sandals. That's right, in a sea of high heels, Emma wore flats. Those flats probably cost more than all the shoes in our closet combined, but still. It was awesome. 
3. Dance Party: Did everyone see Emma dancing to the music that played while she presented an award with Ewan McGregor? She also wanted to know if the music was available on CD. Basically, she took the monotony out of presenting trophies.
4. Cheers to That: Most of the time when nominees are called out during their category and the cameras zoom in on all the actors, they are sitting there just smiling and nodding a bit. Not Emma. Nope. When the camera fell on her during the Best Actress category, she was too busy getting her drink on to look nervous. Emma Thompson: giving zero s--ts since…always.
So we all agree? Emma is the real winner tonight? Good, let's start fashioning a trophy for her.