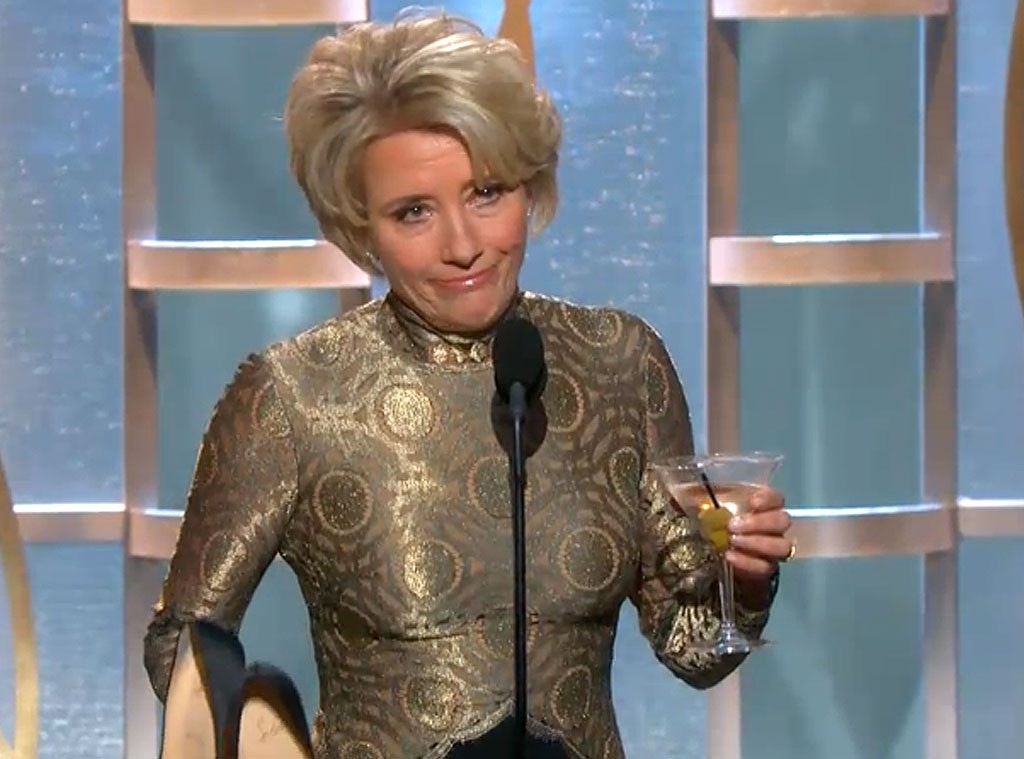 NBC
If you've been carefully watching the short clips of celebrities mingling that are shown before the Golden Globes cuts to commercials, you probably noticed Jennifer Lawrence holding her newest award in one hand and a drink in the other. Dopest double fisting ever? Uh, yeah. But we couldn't help but be a bit disappointed that the Hollywood Foreign Press didn't announce her award later in the night, after she's knocked back a few more. Can you even imagine what her speech would have been like?
We can. Because we have Emma Thompson.
Mrs. Saving Mr. Banks hit the stage with a martini in hand and also her shoes in hand. Because she wasn't wearing them ("I just want you to know, this red, it's my blood," she said about the bottom of her Louboutins).
She (almost) sipped her drink mid sentence, refocused on the task at hand, saying (some might say slurring—not us, but someone), "I present the nominees, well, not me the Voice of God, for Best Screenplay." And then she sipped.
What she did not have with her onstage was the envelope. It was brought to her, she threw her shoes, handed off her drink (NO! GIVE EMMA THOMPSON BACK HER DRINK! Someone always make sure Emma Thompson has a drink) and you know who won? Emma Thompson. She won all of our hearts.
This is the new Jennifer Lawrence. Or the old older more mature Jennifer Lawrence?
We'll leave you with this parting anecdote: