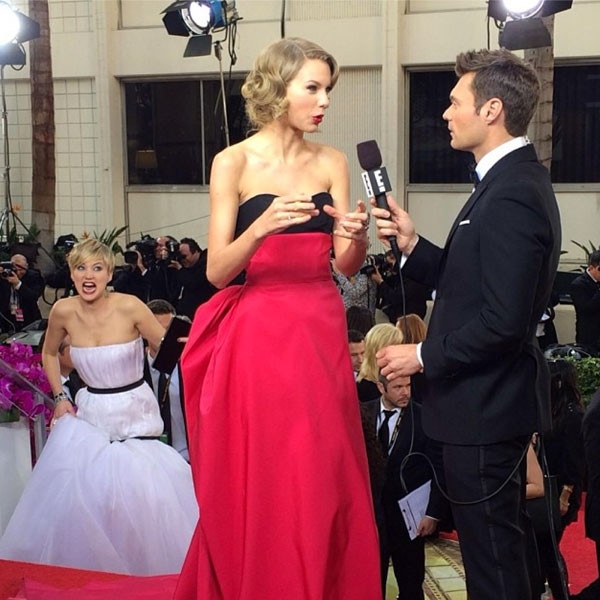 Instagram
Clock it: 15 minutes before the 2014 Golden Globes began. That is the time that everyone's BFF Jennifer Lawrence officially won the red carpet, when she crept up the stairs of E!'s platform as her actual BF(F?) Taylor Swift was being interviewed. 
She's like a...very pretty Gollum? Red carpet monster? Who knows, who cares. It's Jennifer Lawrence being Jennifer Lawrence and we love it:
"I was going to come in and push you down the stairs," Jen joked. "I was like, she'll crack up. She would really love that."
To which Taylor replied, "That's so funny." Well, in that case, we kind of wish she would have done it. That would be one hell of a GIF.
It's no surprise that the two are friends. Taylor Swift is friends with everyone.
Literally. 
Everyone.
But Jennifer says she still hasn't been to a Taylor Swift concert. "No, she's never invited me," she told Ryan Seacrest. To which Taylor retorted, "I have invited you so many times."
Instead, Jen recently watched her friend at the Country Music Awards: "Oh, my god I freaked out over the CMAs," Jennifer gushed. "I sent her a text message that was like 6 inches long."
"I was reading it like, this is the most heartfelt text I've ever gotten," Taylor recalled.
So what did it say? "I don't remember, but she was just so incredible." And Taylor gushed back, "American Hustle, I was doing the same thing. I wanted so badly to send a novel text message."
Umm, could we get in on a group text? Thanks!
Watch:
Taylor Swift and J.Law's Girl Crush