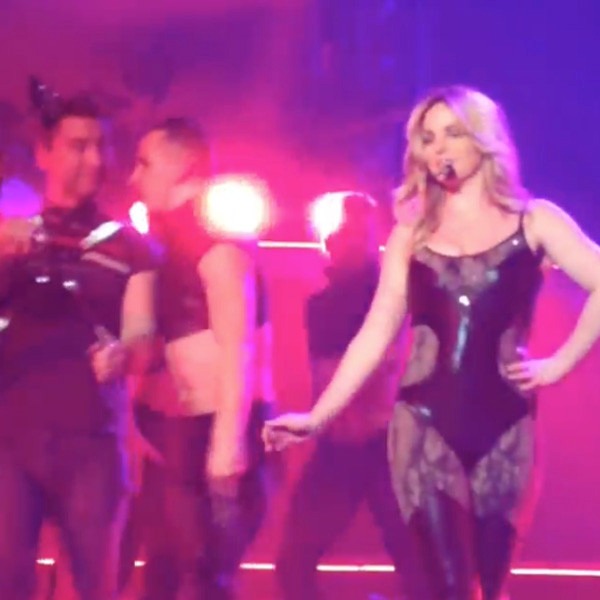 Instagram
Mario Lopez was the first star to be seduced by Britney Spears during her Piece of Me concert at Las Vegas' Planet Hollywood Resort & Casino, and 'N Sync's Lance Bass got his turn on Monday, Dec. 30. The pop princess plucked her longtime friend from the audience for "Freakshow" and allowed her dancers to dress Bass in a leather harness and animal ears before walking him around stage like a pet.
Spears thanked the boy bander for being such a good sport later that night. "So so good to see you!! Thank u for coming tonight," the 32-year-old singer tweeted. Bass replied, "Thank you for dressing me up as a kitty and spanking me! It's like old times. Xoxo Love ya!"
The night's other celebrity attendees included Paris Hilton, Nicky Hilton and Saturday Night Live star Nasim Pedrad. "Lovely seeing you both in the audience tonight!" Spears told the Hilton sisters on Twitter. "Miss you girls!!"
Spears has been earning raves for Piece of Me after it kicked off Dec. 27. "She single-handedly brought the spectacle of a touring arena show into a nightclub-like theater and pulled off the gamble with a flawless performance," said The Las Vegas Sun's Robin Leach. CNN's Alan Duke echoed, "Las Vegas may never be the same now that Britney Spears has started a residency in Nevada's Sin City."
The "Perfume" singer will take a mini-break following her New Year's Eve show, returning on Jan. 29. Concerts are scheduled in four-week segments in April and May and again in August and September.
Spears has long dreamed of headlining a Las Vegas show one day. "I always kind of said that in the back of mind," she told E! News ahead of her Dec. 22 two-hour movie event, I Am Britney Jean. "I'm superstitious like that. I have a gut feeling about something and then it happens."