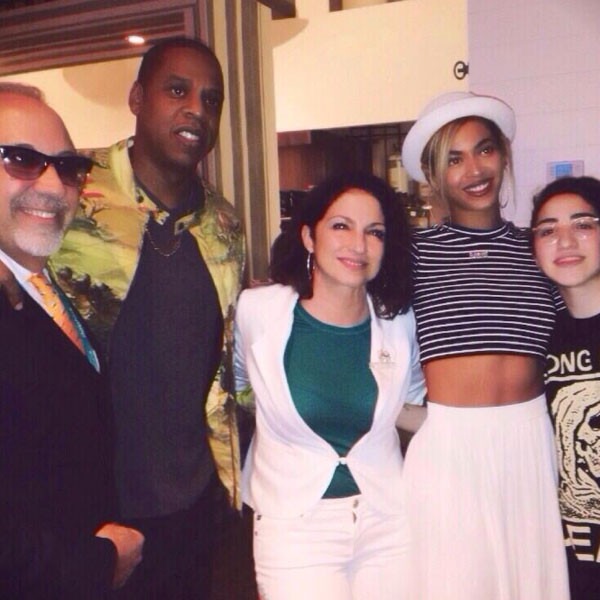 Twitter
Mission accomplished! Beyoncé and Jay Z have completed their 22-day vegan challenge. The couple decided to eliminate meat and animal products from their diets until Christmas, the rapper announced via his Life + Times blog just one day before his 44th birthday on Dec. 3.
A source tells E! News that the "Drunk in Love" collaborators dined at Pappadeaux Seafood Kitchen in Norcross, Ga., over the weekend. The spouses of five years traveled south to Miami, where they once again opted to eat seafood.
According to The New York Post's Page Six, the pair hit up Seasalt and Pepper on Sunday, Dec. 29. Sources say the restaurant's chef, Alfredo Alvarez, paid a visit to the stars' table and asked them what they'd like to eat. Beyoncé and Jay Z requested pappardelle, lobster risotto and seafood casserole.
While there, they bumped into singer Gloria Estefan and her family. After a brief chat, the "Conga" singer posted a picture from her celebrity encounter on Twitter. "Ran into the incredible @Beyonce & @Jay-Z post Dolphin game @ Sea Salt on the Miami River, sweet, Em was catatonic!" Estefan wrote.
Later that night, the Miami Herald reported that Beyoncé and Jay Z were seen walking into Zuma and asked for a private table: "When they didn't like the table they were shown, they just walked out." On Monday, Dec. 30, Blue Ivy's parents were photographed walking down the street after leaving Joey's Italian Café, which claims to have the best pizza in Miami.
Bon appétit!