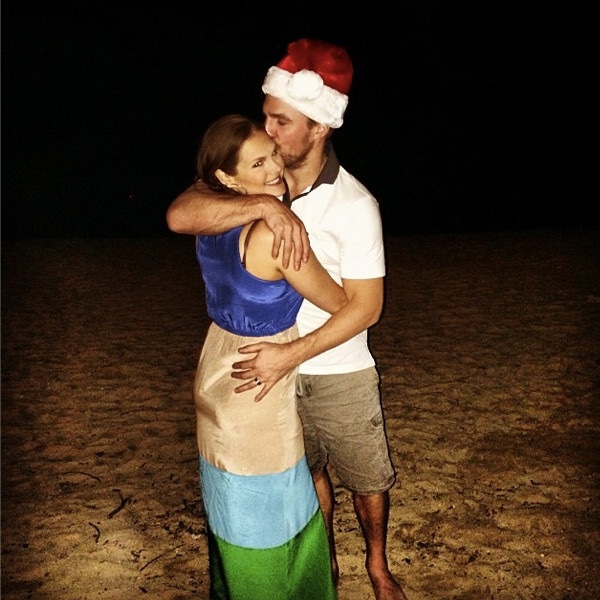 Instagram
What a year it's been for Stephen Amell! To celebrate his first wedding anniversary with model-turned-actress Cassandra Jean, the Arrow actor took his family to Hawaii on Saturday, Dec. 21. The trip started with a snafu, but it didn't damper the TV star's spirits. "The airline lost our luggage. Instead of complaining I'm gonna drink something with an umbrella in it and go on living my life," Amell tweeted.
Three days later, Amell kicked back and watched Oregon State cream Boise State during the Hawaii Bowl. "Want to see how many adult egg nogs I can drink in 80 degree weather," he joked on Twitter. The next day, Dec. 25, the actor and his wife—who first tied the knot on Christmas Day in the Caribbean and then again over Memorial Day weekend in New Orleans—celebrated one year of matrimony on the beach. "Christmasversary," Jean wrote in an Instagram caption.
The spouses weren't alone, however: they brought their 2-month-old daughter Mavi with them!
The couple's baby girl rocked sunglasses and a floppy hat by the pool on that particular afternoon. Two days later, Jean swaddled Mavi and brought her along during a group hike to Waimea Falls.
On Dec. 27, the first-time parents took a family picture on the beach and shared it via their respective social media accounts. Amell posted the snapshot on Facebook and added a succinct caption "Holiday family time." Jean, who debuted her post-baby bikini body in the pic, uploaded the photo to Instagram and wrote, "Family portrait: Christmas card 2014."