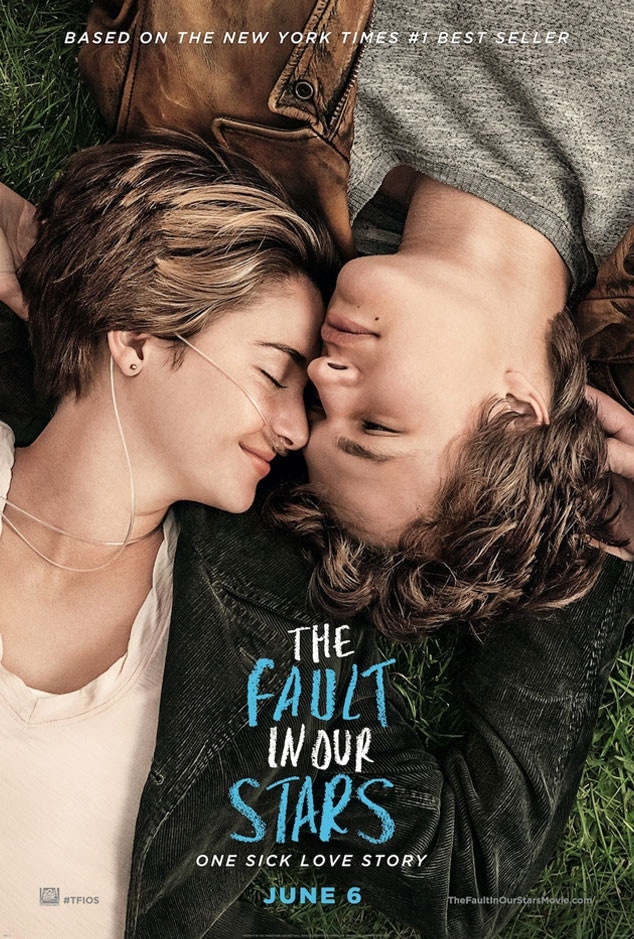 20th Century Fox
The movie poster for the upcoming film adaptation of The Fault in Our Stars is out!
The new poster, released to Buzzfeed, depicts costars Shailene Woodley and Ansel Elgort lying on the grass while smiling and gazing into each other's eyes. While the image is precious, some fans are having issues with the tagline at the bottom of the poster.
Beneath Woodley and Elgort's heads reads "one sick love story." The problem? Some think the phrase makes light of the film's plot, which involves two teenage cancer patients who fall in love while battling the deadly disease.
One Twitter user reacted to the controversial tagline, writing, "So. The Fault in Our Stars tagline is a joke, right? A terrible, offensive joke?"
John Green, the author of the best-selling book, even took to his own Tumblr page to react to the movie studio's tagline and explain that he had no part in coming up with it.
"I like the tag line," Green writes. "I found it dark and angry in the same way that [the main character] Hazel is (at least at times) dark and angry in her humor. I mostly wanted something that said, 'This is hopefully not going to be a gauzy, sentimental love story that romanticizes illness and further spreads the lie that the only reason sick people exist is so that healthy people can learn lessons.' But that's not a very good tag line. I like the tag line because it says, literally, the sick can also have love stories. Love and joy and romance are not just things reserved for the well."
He adds, "What matters most to me is that you're seeing Shailene as Hazel and Ansel as Gus for the first time, and it seems like people are (mostly) pretty happy with what they're seeing, which is what I was anxious about."
What do you think of the "one sick love story" tagline? Sound off below.