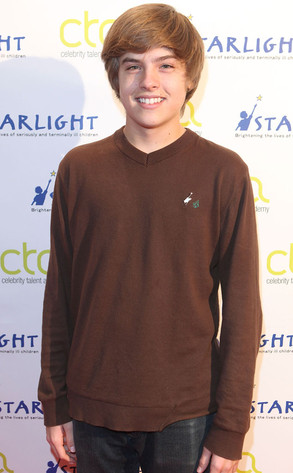 Tim Whitby/Getty Images
When will they learn? Dylan Sprouse—best known for his role as Zack Martin on Disney Channel's The Suite Life of Zack & Cody and Suite Life on Deck—is the latest celebrity to have his nude selfies leak online. Two pictures of the 21-year-old actor surfaced on Tumblr on Sunday, Dec. 15, showing the famous twin in various states of undress.
The first snapshot shows Dylan holding his iPhone and posing in front of a bathroom mirror while flexing his muscles. The second photo features the TV star completely nude and cupping his genitals, though half of his face is out of frame.
Dylan didn't deny that the photos are real, however. "Whoops, guess I'm not 14 and fat anymore," the assistant video game designer told his Twitter fans. He then wrote, "I messed up... but I'd be a fool not to own up to it. Got to move past it I suppose." Dylan also added "n00d pic dealer" to his Twitter bio.