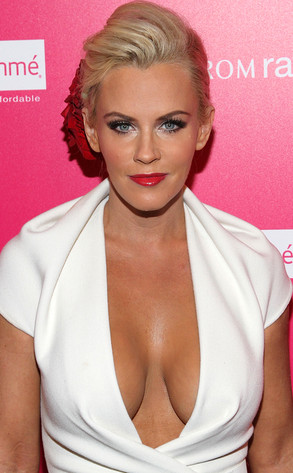 Manny Carabel/Getty Images
Jenny McCarthy is an open book, which makes perfect sense, given that she's written nine best-sellers. So it comes as no surprise that the buxom blond unabashedly revealed how much she currently weighs—and how much that number can fluctuate—during a recent interview.
"I'm a big yo-yoer. I do go up and down," the 5-foot-7 star told Radar Online. "I go from like 120 to 138. Right now I'm at 136, I think. And I take this time to thoroughly enjoy it during the holidays. I'm kind of part of the collective thinking when it comes to just surrendering to the not so great foods. Sometimes it has to do with PMS."
The View co-host said she's able to conceal extra pounds by staying hydrated. "I drink a lot of water! When you have a lot of water it kind of tends to go everywhere," she shared. "Like a little bit in your neck and a lot in your boobs and your arms. To me, it's more evenly spread out, I think."