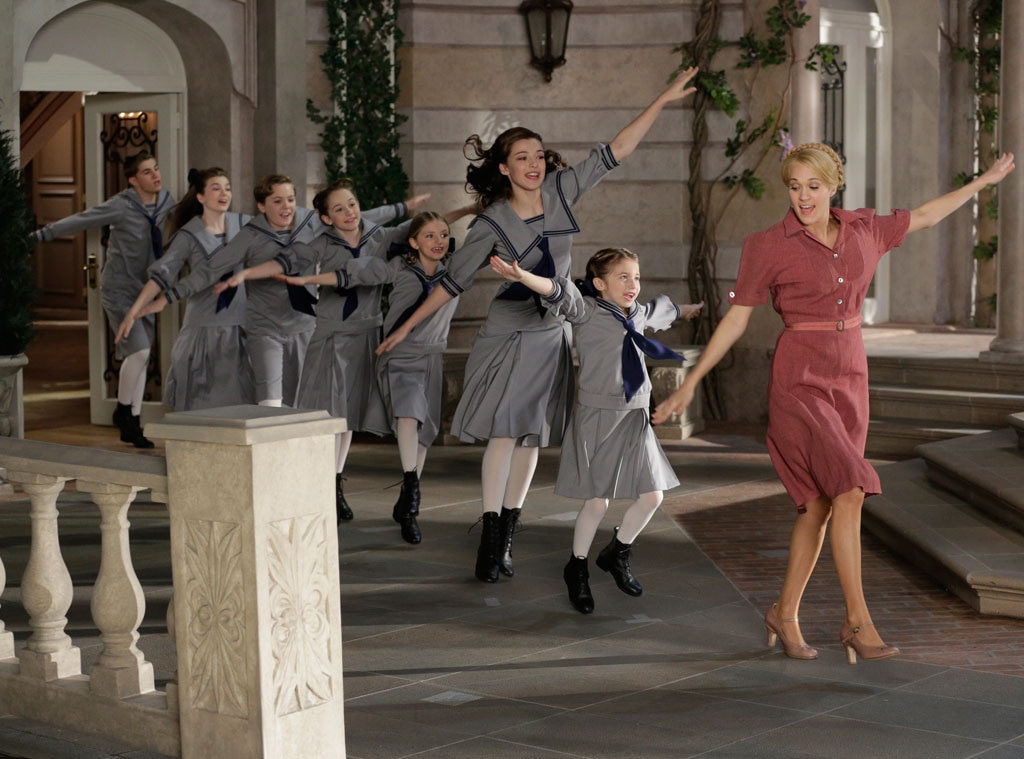 Giovanni Rufino/NBC
How do you solve a problem like Maria? The Sound of Music Live!—starring Carrie Underwood, Stephen Moyer and Audra McDonald—aired on Thursday, Dec. 5, and the NBC TV special elicited mixed reviews from critics and celebrities alike. "When Underwood spoke her lines, she was as flat as the label on a Swiss Miss package of cocoa," The Washington Post's Hank Stuever wrote. Ouch.
"If you stuck with it, The Sound of Music Live improved as it slowly ambled toward the romance between Maria and Captain von Trapp and the family's flight to freedom," he continued. "What I liked about The Sound of Music Live was that, for a moment anyhow, it made me forget that it's 2013."
According to Variety's Brian Lowry, Underwood handled the singing more ably than the acting. He also believes there was "an absence of chemistry" between the country singer and Moyer.
The Hollywood Reporter also praised Underwood's vocals and highlighted many technical achievements, including the seamless set transitions. "Twice during the three-hour broadcast, viewers were creatively transported, first from the von Trapp estate to the abbey, and again from the family's home to the concert hall, draped in banners displaying swastikas," Fred Bronson noted. "It was a clever and surprising stage move that was much more magical than a simple cut or dissolve."
Many celebrities watched the broadcast from home and shared their opinions via Twitter. Pitch Perfect's Anna Kendrick live tweeted throughout the show, offering witty commentary about the beloved musical. "Carrie Underwood and Audra McDonald look like they're about to have a knife fight #PreFightCircling," she wrote. She later joked that she was "getting a real rapey vibe from this Rolf."
Other Kendrick gems include: "Nazi talk is a real party foul as it turns out;" "So Kurt is the strongest soprano so far? #GoodBYEEEEEEEE;" "'How Do You Solve A Problem Like Maria' is her wedding march? The nuns are throwing so much shade. #JealousyWillGetYouNowhere; "Maria is really the Brad Pitt of this relationship #SoooManyChildren;" and "I'm glad Carrie wore her sensible pumps for the hike to Switzerland. #Phew #WeOut."
Rob Lowe poked fun at his widely panned Oscars performance while tweeting about The Sound of Music Live. "I may be the wrong person to weigh in (Snow White Duet?) but I'm glad a network is taking a chance with #TheSoundOfMusic #FunAndSweet," he wrote. "Ok, so some of the acting is pretty bad, but you can't have everything." The Parks and Recreation star also joked that one of the Nazis "looks like a young Al Gore."
"The Nazis probably would have left them alone if they didn't yodel," Zach Braff quipped. "No one likes yodeling."
Cameron Diaz kept things positive throughout the night. "The only live performance on TV I've done is SNL. I couldn't imagine doing #SoundofMusic live for 3hrs. #bravecast #poopingmylederhosen," she tweeted. "@AudraEqualityMc @carrieunderwood just made me weep with #climbeverymountain I love spreading the word of #livelovehavenofear."
Before she signed off for the night, Diaz—who called the Nazis "total dicks"—congratulated everyone who worked on The Sound of Music Live. "Habits off to the entire cast/crew of @SoundofMusic Nice work to you all! #pulleditoff #hardtodo #talentedpeeps."
Miranda Lambert was equally moved, writing, "Wow! The Sound Of Music Live was awesome. @carrieunderwood unbelievable! I can't imagine the work that went into that. Such a talented cast!"
Underwood tweeted several pictures with the cast members after the special wrapped. "Glory to God tonight," she wrote. "I couldn't be more proud. What a tough thing to pull off and we did it! I am so blessed!!!"
(E! and NBC are both part of the NBCUniversal Family.)