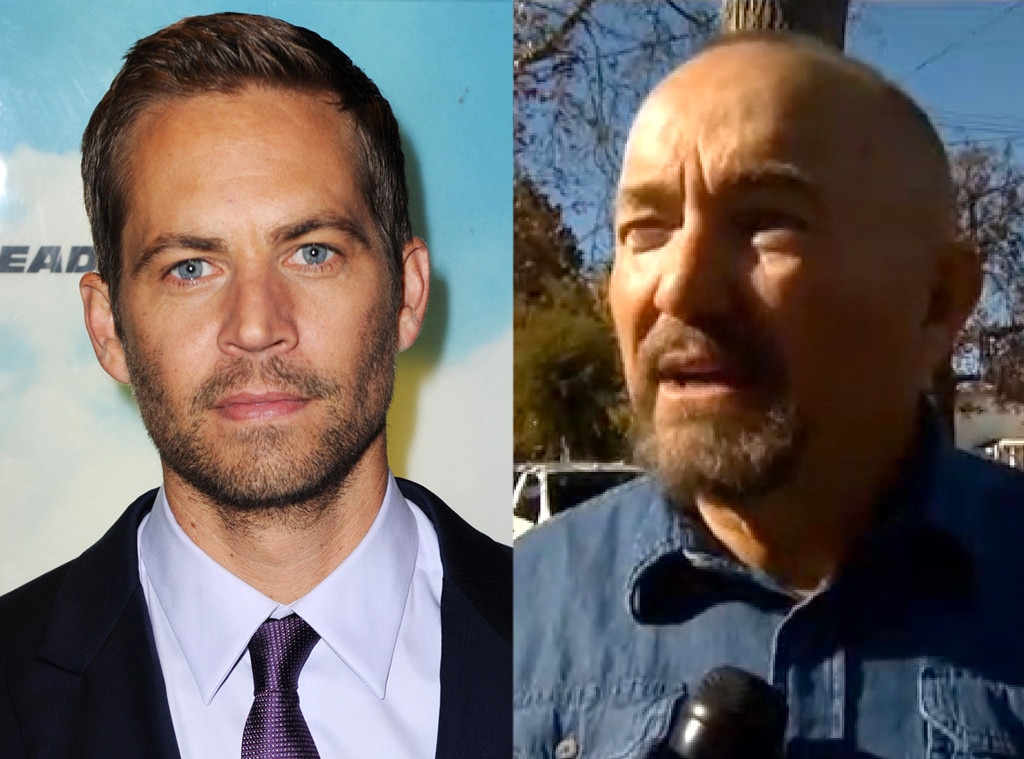 Dave J Hogan/Getty Images / CBS News
Just when we thought there couldn't possibly be any more shocking revelations in Paul Walker's death, this happens.
During an exclusive sit-down interview with E! News, the late actor's father, Paul Walker Sr., revealed the last conversation he had with his famous son before the star's sudden passing on Saturday—and their talk had to do with death and Walker's "daredevil" activities.
"The last conversation we had, I sat there, I looked at him and I said, 'You know, I love you very much. I love all of you. And we're all very, very close. If anything was to happen to anybody in this family, it would be a rough deal,'" Walker's father tells us.
"I said, 'Promise me, no more daredevil stuff.' I said, 'If in your heart, you say, I can do this, then by all means, do it. If your mind says, maybe not. Then don't.' I looked at him, I said, 'Will you promise me that?'"
Watch:
Paul Walker's Last Conversation With His Dad
He continued, "I said, 'You know, promises are a very important thing here, Paul.' I said, 'Say OK,' and he said, 'OK.' You know a lot of us, sometimes we make promises and get caught up in the moment and stuff like that, but I can tell I got to him. I can tell that I was very serious. Sometimes sons think of their fathers and their grandfathers as these bigger than life people."
Walker Sr. also told E! News that he doesn't feel like his son was always comfortable with the fame surrounding him, and that the massive media attention surrounding the 40-year-old's death is no exception.
"It was embarrassing to him," he told us, "I thought last night, 'Paul would be so embarrassed of this.' And I looked up at the sky and I said, 'Well, tough luck, pal.'"
Watch:
Paul Walker III on How Meadow Is Coping
One person Walker Sr. is especially worried about at this trying time is his granddaughter Meadow Walker.
"She's so sweet and beautiful…I'm gonna have a real hard time talking with Meadow. I really am. It's gonna be a tough deal. Gonna be real rough," he told E! News and mentioned that all he's been able to do so far is "give her a hug and kiss. It's hard to get to Meadow because she's got so many people close to her that are loving her and we want that."
Walker Sr. continued to talk about his son, as the celeb's nephew, Wes, got emotional in the background. "He just liked being around the family. He really did. Any young person. If somebody come by, they'd look at him and he'd say, 'Hey, come on up here. What's your name? Are these your kids?' Especially if they had a kid with him."
The Hollywood star continues to be remembered in different ways. Earlier today, two private planes flew over Los Angeles with a custom banner dedicated to the late celeb. The sign read, "R.I.P God be with Fast & Furious star Paul Walker."
Watch:
Paul Walker's Dad Thanks "Fast" Cast
For all the latest on Paul Walker's tragic death, tune in to E! News weeknights at 7 p.m. & 11:30 p.m.