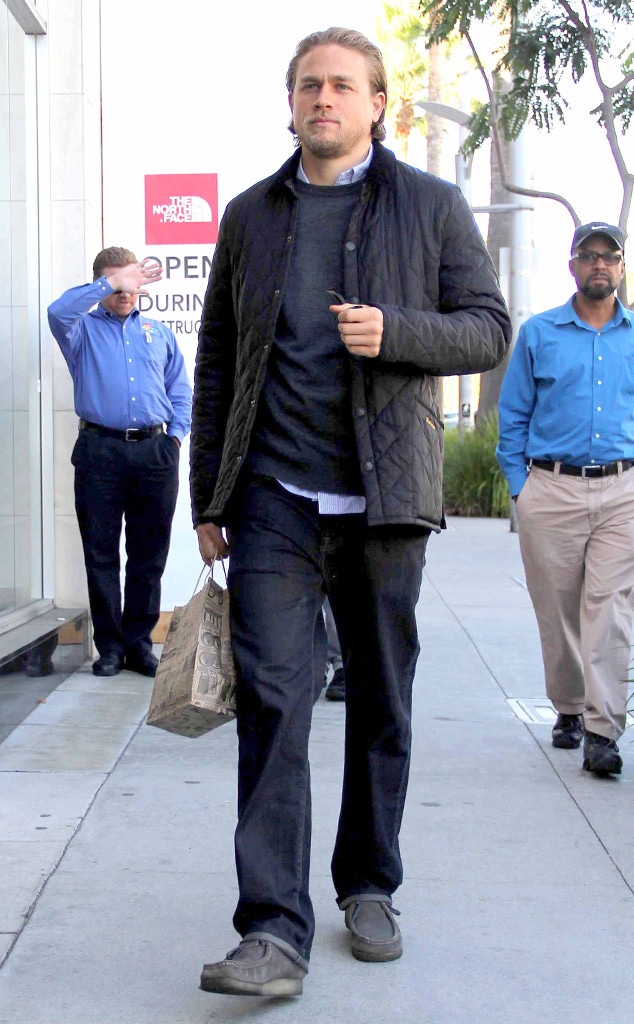 GINO/AKM-GSI
The announcement that Charlie Hunnam was cast, and later replaced, in the film adaptation of Fifty Shades of Grey was by far the biggest movie news of the year.
Frenzied fans of the erotic books aired their opinions on social media after learning that the Sons of Anarchy star was named to play the male lead, claiming that he didn't look the part (among other reasons).
But the film's producer, Michael De Luca, explained that online critics didn't have any effect on the casting decision.
"I am on Twitter constantly. I am a masochist," he said during The Hollywood Reporter's Producers Roundtable discussion. 
Courtesy of Frank Micelotta/Invision for FX/AP Images
"I'm into the fandom, so I was aware of what was coming…when Charlie Hunnam wasn't what most readers pictured. But he was so awesome in this audition that he did with Dakota Johnson, and he really wanted to play that character, and we're not making the movie based on Twitter."
He added, "We thought we'd get there with him, and then when we couldn't, we anticipated that the new guy, Jamie Dornan, was going to be more of what the fans conjured in their imaginations."
And while there are no hard feelings between the actors or the producers, De Luca shared an inside glimpse as to what really lead to the recasting decision.
Frazer Harrison/Getty Images; Tim Whitby/Getty Images
"In the case [of Fifty Shades], it really went down to the wire. Everyone wanted it to work out, including Charlie," he admitted.
"In terms of schedule, to be free from Sons of Anarchy in time to show up on the set of our movie, the physical transformation and the psychological transformation from Jax to Christian Grey was more than he could accomplish in the time that we had."
De Luca added one final, complimentary note about the Brit, saying, "To his credit, he came to us and said, 'I don't think I'm going to be able to get there in the time we have, and I don't want to do a bad job. I'm not going to be able to turn into this guy."
And the rest, as they say, is movie-making history.