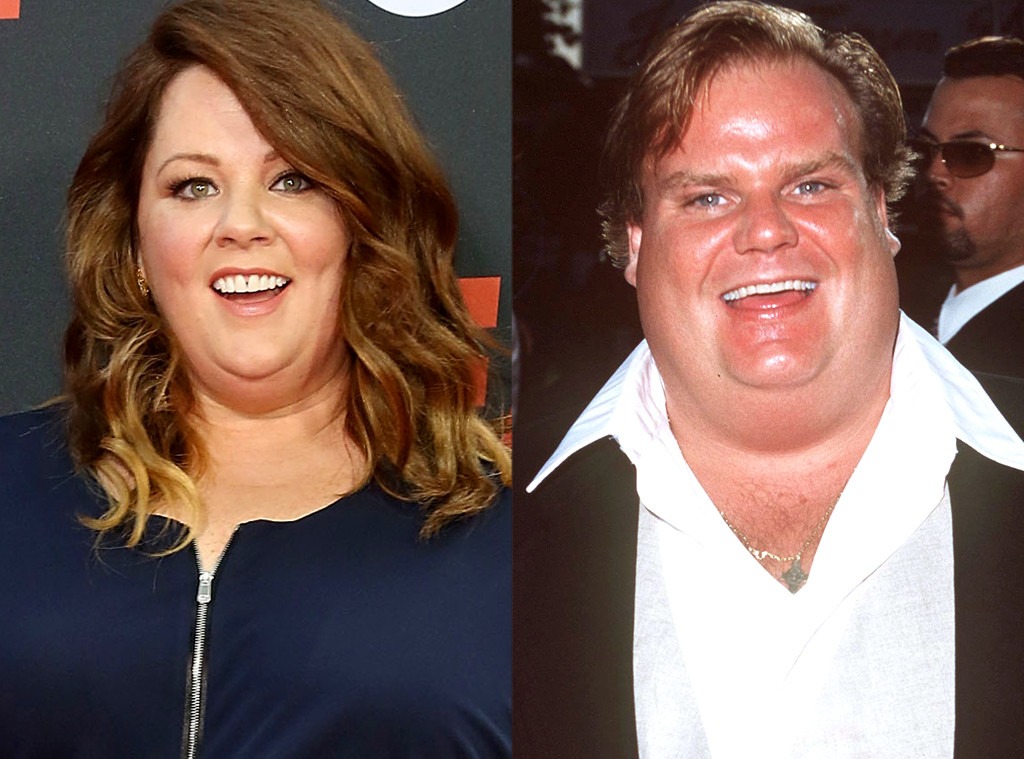 Astrid Stawiarz/Steve Granitz/Getty Images
Melissa McCarthy may now be an Emmy-winning actress, but the Bridesmaids beauty hasn't always been a big name star.
During an appearance on Late Night with Conan O'Brien on Thursday, Nov. 14 with her Mike & Molly costar Billy Gardell, McCarthy opened up about one of her first jobs in her pre-fame days, sharing an embarrassing story from her past and admitting she once was adorably star-struck while serving her idol Chris Farley coffee at Starbucks.
"It was in Santa Monica, so when I first moved here I didn't have a car, so I had jobs I could walk to. So I worked at the [YMCA] and I worked at Starbucks," she recalled. "Chris Farley came in and I was so excited because he loomed pretty largely for me and I kept trying to think of...you could just tell he didn't want everybody to make a fuss, and so in my poorly executed way of, like, don't freak him out I just kept staring at him."
And despite trying to keep her cool, Melissa admits she acted like one of the late comedian's craziest fans:
"At one point, I got so overwhelmed because he was right there, that I started crying," she confessed. "I was just standing there, making him his coffee, and I know I was just like, 'Stop locking on him!' I was so locked on him," she said with an animated expression. "And now I'm so starting to cry and I wonder now if when I gave him the coffee, he just went outside and was like [mimics throwing it in the trash]."
"Are you good at meeting heroes now?" Conan asked.
"No. I'm naturally awkward," McCarthy admitted.
The Heat star also discussed her early ventures in the world of stand-up comedy—the field in which her Mike & Molly costar first rose to prominence.
"I tried. I did stand-up for, like, eight months, if even, so compared to what he does, it doesn't really count," she said. "I don't know that I was skilled at it," she adds before sharing her awkward encounters with past audience members.  
"It's a tough room. Any place you went to, it was almost like the same guy who was in each club, and I'm not kidding, as you were just placing your foot on the stage, someone from the back of the club was always like, 'Show us your boobs,'" she screamed. "So now you have to spend your first four minutes just trying to make that guy look like a dingbat because he yells that, but every club I went to...So then I go downtown. Did you do the Duplex downtown in New York?"
"Sure," Gardell replied.
"That place I loved because it's full of gay boys, so they didn't want to see boobs," McCarthy said as the audience erupted in laughter.
Isn't she the best?!