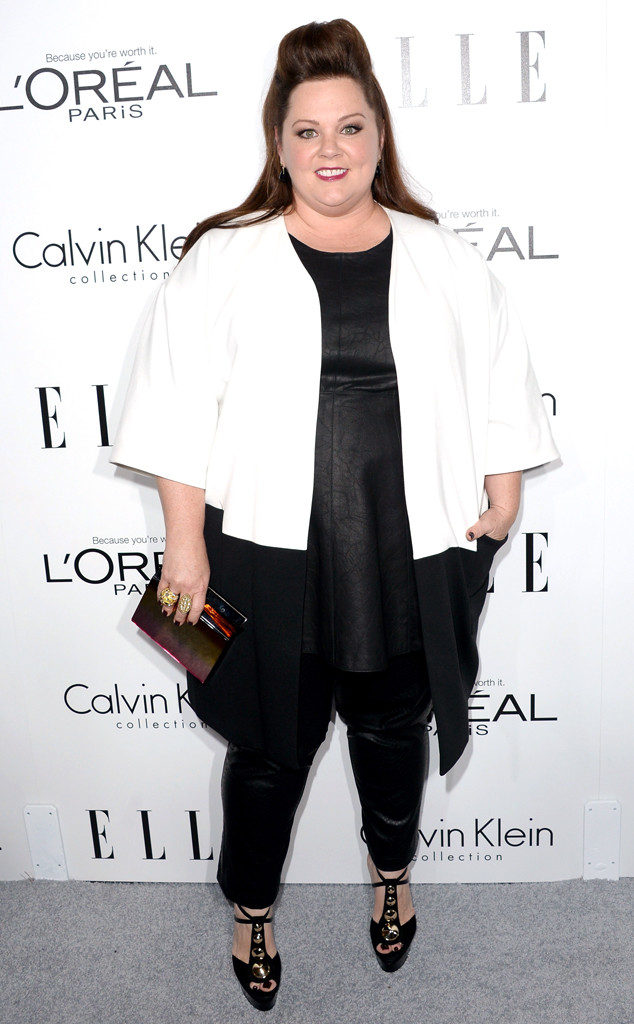 Jason Merritt/Getty Images for ELLE
Melissa McCarthy really doesn't know what the Elle all the fuss is about. 
Elle was blasted by some critics for its November cover featuring The Heat star looking beautiful in a stunning Marina Rinaldi coat—a lovely image, but also a noticeable departure from the usual flash-as-much-skin-as-possible theme of many high-fashion mags.
But asked on the red carpet at the Elle Women in Hollywood gala tonight in L.A. if she expected all the fuss, she told E! News, "No, not at all!"
And guess what? She wanted to wear the coat!
"What I found so bizarre is I picked the coat," McCarthy explained to us. "I grabbed the coat. I covered up. I had a great black dress on but I thought, it comes out in November.
"I was so sick of summer. I live in Southern California. I was like, 'Give me a big coat to wear. Give the girl some cashmere!'"
Really, though, the draped-just-so charcoal coat is fabulous.
"I picked the coat," McCarthy reiterated. "They were like, 'The dress is really great,' but I was like, 'Yeah, but look at this.' I was just shocked I didn't steal it. Now I think I really should have the coat. I'm petitioning for that coat. Give me that coat. I earned it, damn it!"
Shortly after the controversy erupted, a source told E! News that McCarthy loved the cover.
"On all of our shoots, our stylists work with the stars to choose pieces they feel good in, and this is no different: Melissa loved this look, and is gorgeous on our cover," an Elle spokesperson said in a statement responding to the backlash. "We are thrilled to honor her as one of our Women in Hollywood this year."
Alternate covers for the annual issue feature Reese Witherspoon showing off her figure in a fitted black Versace dress, Shailene Woodley wearing a strappy black swimsuit and a close-up shot of Penélope Cruz's flawless face.