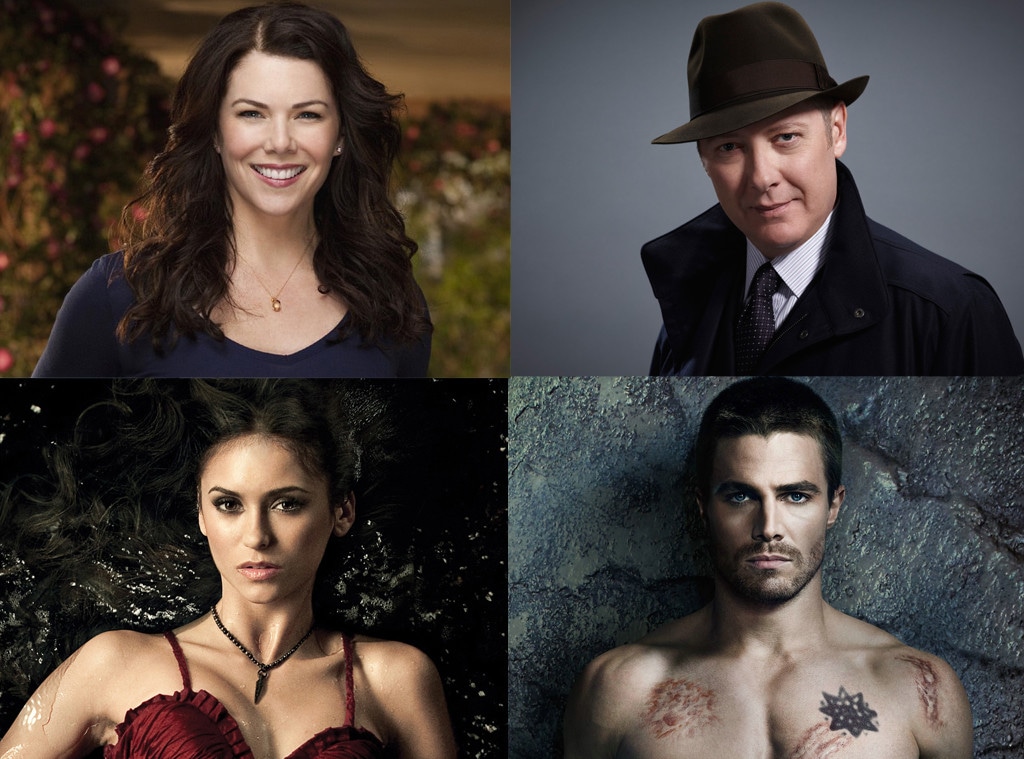 The CW; NBC
Vampires, infamous criminals and superheroes, oh my!
Today's Spoiler Chat includes scoop on all of the above, as well as some dish on TV's new royals for good measure! Not only do we have some juicy teases on The Vampire Diaries' big 100th episode and The Blacklist's new character coming in to shake things up, but we've also got inside intel on Arrow's Black Canary/Sarah. Plus, we've learned that a fan favorite is looking to make a return to Parenthood very, very soon and have scoop on The Mindy Project, The Mentalist and more...
Dina: Reign is my new obsession, so I'll take anything you've got to share. I'm not picky!
We need every single person out there to start watching this show, because it's our obsession, too, and we can't fathom our Thursdays without it! We've seen the next two episodes and they are amazing. Of particular note: The castle might as well be a high school hallway as rumors will start circulating that Queen Catherine is having an affair with Nostradamus. But while that would land a girl some nasty whispers behind her back in school, it could lead to a beheading for Catherine. Gulp!
Chris: So excited for The Vampire Diaries' 100th episode! Got any scoop?
We know that Olga Fonda, Katherine's daughter Nadia, appears and she tells us it's not to be missed. "Well I can tell you one thing. I can tell you that episode is going to be amazing. It's going to be great. It's going be exciting," she promises. "I can guarantee you that the 100th episode is going to be amazing. It's very strong and the TVD fans are going to be very happy." Oh, and we'll be there for the big 100th episode celebration in Atlanta this weekend, so send us your questions for Nina, Ian, Paul and the rest of the supernatural gang! And follow @tbrick2 on Twitter for updates.
Thomas: So excited to see Tom and Red finally share a scene on The Blacklist! Got any more details on that?
 Ryan Eggold (Tom) is even more surprised about another upcoming scene partner, and we are dying to sleuth this one out. He tells us: "I shouldn't say too much about this, but potentially further down the road, there is a new character coming on the show that I will be working with a lot," he spills. Any guesses?! For some reason our mind goes to Liz's father...
Kelli: Not down with Sarah and Hank on Parenthood. At all. Please give my Mark Cyr-loving heart something to hold onto!
We stalked down Jason Ritter to do just that for you, and he tells us there's a very good chance you'll be seeing Mark again. "There is a chance, not 100 percent sure yet, but there is a good chance," he spills. "I don't want to make any promises in case we decide not to, but so far, so good." Squeal! Still, given their pretty heartbreaking ending, Ritter says he'd like to see "some kind of resolution" for Mark and Sarah…or to see them "get back together. Who knows?! Maybe a painful understanding ending."
Deb: Loved the reveal of the Black Canary on Arrow! Will we see a romantic connection between Oliver and Sarah?
Given how damaged Sarah is, probably not. "I think she's changed so much that crushes and things like that are not something she feels like she can even afford to have anymore," Caity Lotz explains. "She doesn't get that kind of liberties, so I don't think that's really in her mind anymore. That's also another thing we kind of learn more about too is the history of her feelings for Oliver." Hear much more from Caity in our exclusive interview with her!
Jacinda: So excited to see Anna Gunn on The Mindy Project! Got any more details on her appearance?
Gunn's character Sheila has made a habit of "saving" doctors from what she considers less than ideal medical offices. Gunn will have an uber-hip sidekick named Zandra at her super-chic medical practice who used to work on a cruise line. (Ew!) Anna Gunn is playing Mindy's "girl crush." And we're just excited to see her looking happy and successful and not haunted by her awful Heisenberg hubby. You?
Frank: You never give us any spoilers on The Mentalist! Now would be a good time to start!
We couldn't agree more! So how about some scoop on the hunt for Red John? "We're narrowing it down," Amanda Righetti teases. "The next episode that airs, Jane gets a new clue as to narrow the list down. Right now, it's seven suspects and I think he gets it down to five."
Veronica: Beauty and the Beast scoop please!
Is Gabe breaking bad…again?! Sendhil Ramamurthy teases: "Questions start to get asked about why he's doing this. OK fine, he wants to make amends and prove he's a good guy, but are there other motives? That's what we're getting to now, what we're exploring. Why exactly is he doing what he's doing? Is there an ulterior motive?" Fans can expect to see the series "get into the meat" of that question from episode eight on.  
GOT TV QUESTIONS? Tweet them to @kristindsantos!
SPOILER CHAT comes out every Monday, Wednesday and Friday at 9 am ET/6 am PT. Bookmark the Link!