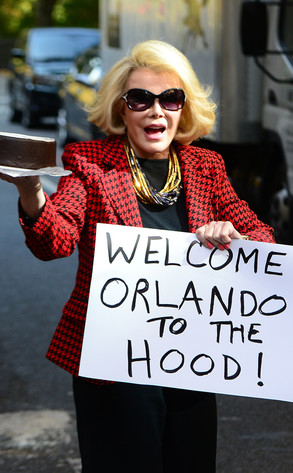 Raymond Hall/FilmMagic
Orlando Bloom really appreciated Joan Rivers' sweet gesture (pun intended) of welcoming him to her New York City neighorhood.
The endearing exchange began when the Fashion Police star held a cute sign that read "Welcome Orlando to the Hood!" while holding a chocolate cake, on Tuesday, Oct. 29.
"Excited to welcome Orlando Bloom to my NYC neighborhood! No cup of sugar - I brought him a full cake," the 80-year-old comedian tweeted the same day.
Unfortunately the 36-year-old actor wasn't home, and even though Rivers managed the shut down the street (ha!), she made the best of the situation.
"Orlando wasn't home so I gave the cake to the paparazzi. Best line I heard: "If you can't trust a cake from Joan Rivers, who can you trust?" she later posted on Twitter.