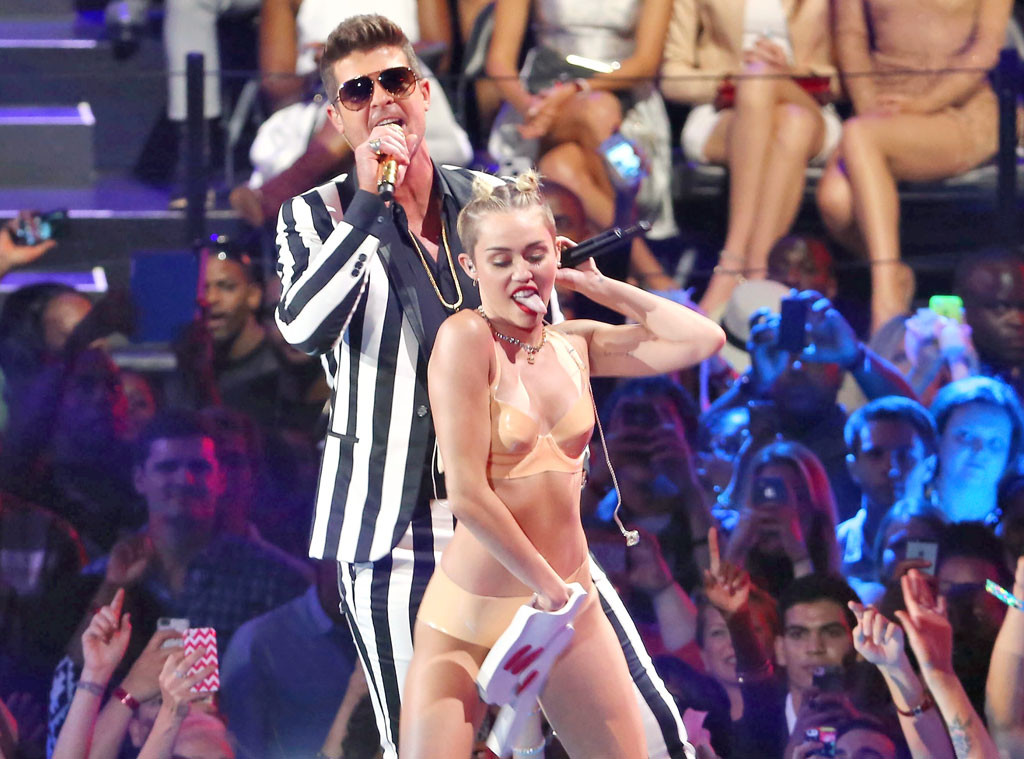 Neilson Barnard/Getty Images for MTV
If Miley Cyrus were a savvier businesswoman, she would have endorsed an official Miley Cyrus-at-the-VMAs Halloween costume and taken a cut of the profits. Because the look—nude-colored two-piece, foam finger, tongue outside mouth—is the most popular costume of 2013.
(Alternate theory: Miley is in bed with Halloween Incorporated and every headline she's made this year was only to drum up business for All Hallow's Eve. The VMAs, "Wrecking Ball," it's like printing money.)
Let's rate the stars who have dressed as Miley.
Paris Hilton
Accuracy: 4/5 Paris added sequins to her foam finger and a pair of heart-shaped glasses to make it her own, but the diamond necklace and drunk teddy one-piece are true to the original.
Attitude: 2/5 She didn't stick her tongue out once.
Bonus D.I.Y. Points: 0 This is as store-bought as it gets. 
Final Rating: 6/10
Kelly Ripa
Accuracy: 5/5 That might just be Miley's actual costume.
Attitude: 4/5 If Miley had the option to twerk on two Robin Thickes, you know she would take it. She can't stop.
Bonus D.I.Y. Points: 0 That might just be Miley's actual costume.
Final Rating: 9/10
Accuracy: 3/5 The Playmate took a surprisingly modest approach to the costume, wearing this nude slip instead of the two-piece. Her Robin Thicke, husband Hugh Hefner, took the pajama approach to his half of the costume, wearing pajamas.
Attitude: 3/5 Tongue out, twerk position.
Bonus D.I.Y. Points: 1
Final Rating: 7/10
Joan Rivers
Accuracy: 4/5 The nude two-piece is spot-on. The foam finger is spot-on. The tongue is spot-on. We would not blame you if you mistook this for a photograph of Miley Cyrus at the MTV VMAs. 
Attitude: 4/5 Ratchet.
Bonus D.I.Y. Points: .5
Final Rating: 8.5/10
How do the celebrities compare to "regular" folk?
This Couple
Accuracy: 4/5 We docked them a point for the missing foam finger. But otherwise, everything seems to be in order here. Little hair buns. Nude two-piece. Full Beetlejuice regalia (take away the Miley half and this costume definitely doubles as Beetlejuice).
Attitude: 5/5 Nailed it.
Bonus D.I.Y. Points: 3
Final Rating: 12/10 Good work, you two. Good work. 
Accuracy: 0/5 This is wrong.
Attitude: 0/5 So, so wrong.
Bonus D.I.Y. Points: Uh…we guess 5? 10?
Final Rating: :-(
This Dog
It's a dog dressed as Miley Cyrus. 10/10.
(Originally published October 28, 2013, at 12:00 p.m. PT)