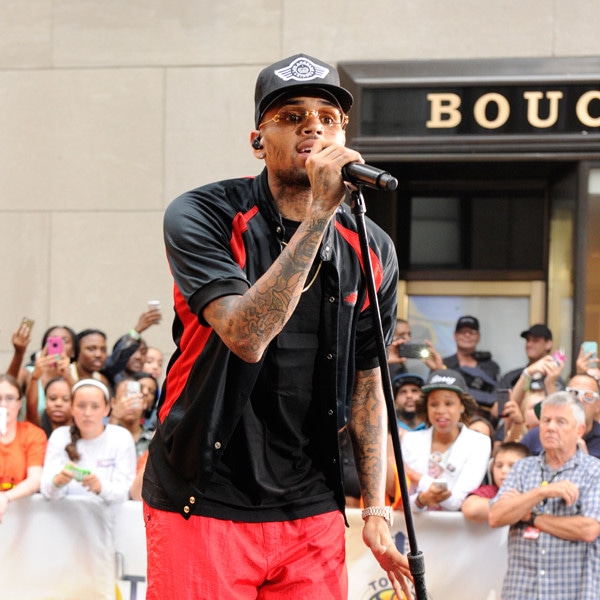 Virginia Sherwood/NBC
Chris Brown's family and friends are worried about him.
Many on Brown's team think it's time for rehab and intensive therapy, a source exclusively reveals.
"He's a good kid, but he keeps messing up," the source said. "He needs help. He keeps self-medicating with weed and alcohol and that's when he always gets in trouble."
The source says concerns escalated after he was arrested in Washington, D.C. this weekend for alleging punching a man who wanted his autograph.
"No one is making excuses for Chris," the source said. "No one is condoning what he has done. But what people don't realize is how bad it's gotten for him. He has all this money and success and he keeps apologizing, but he continues to be one of the most hated people in the business. He gets depressed and then self-medicates. He has a lot of yes-people around him who don't want to help. They just want the money and want to have a good time."
Brown and one of his bodyguards were arrested and charged with felony assault early yesterday morning.  According to DC Metro Police Communications Director Gwendolyn Crump, police were called after a fight ensued outside of the W Hotel at around 4:25 a.m.
 
The victim was transported to a local hospital, and was treated and later released.
Brown also allegedly hurled a gay slur at the victim. The source insists he's not homophobic. "He's not anti-gay at all," the source said. "He's around gay people all the time. But is he politically incorrect? Yes."
A rep for Brown could not be reached for comment.
The Grammy-winner is currently serving probation stemming from his 2009 assault incident with his then-girlfriend Rihanna. His probation will end in a year's time, on Aug. 25, 2014. Any arrest could be considered a violation of this probation, which could result in jail time.
A judge revoked Brown's probation and gave him 1,000 additional hours of community service in August after he was involved in a hit-and-run accident earlier this summer.
Referring to the judge's ruling as vindictive, Brown said, "Community service, that s--t is a b-tch. I'll be honest – and you can quote me on that – that is a motherf--ker there. For me, I think it's more of a power trip for the DA. I can speak freely now, because I don't really care what they say about it, but as far as, like, the 1,000 extra hours they gave me, that's totally fricking bananas."