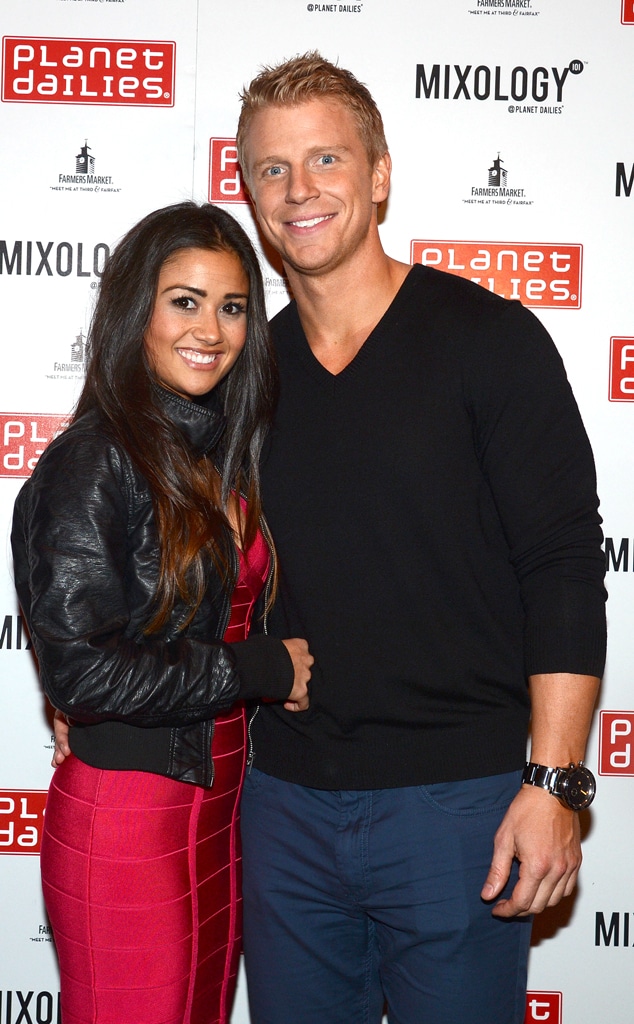 Courtesy: Chris Weeks/Mixology
Sean Lowe and Catherine Giudici are getting one heck of a wedding present.
In addition to the million-dollar nuptials being planned for them, the Bachelor-born lovebirds are getting paid a six-figure sum to walk down the aisle in front of millions of people on ABC next year, E! News has exclusively learned. 
"They're making roughly the same amount as [Ashley Hebert and J.P. Rosenbaum]," who tied the knot in the Los Angeles area last December, a production source tells us. 
Who wouldn't say "I do" to that, right?! Catherine and Sean, however, have let it be known that they were totally gunning for a TV wedding before the money was discussed.
"I think once we set a date, it'll probably be aired on ABC," Sean told E! News a couple of months after his proposal to Catherine aired on the season finale of The Bachelor.
"The Bachelor is such a cool experience because people at home feel like they know us and they're invested in our relationship," he said on Good Morning America this week when announcing that he and Catherine had settled on Jan. 26 for their big day.
"We have no problem sharing the actual wedding with everyone who has been with us so far."
Like Ashley and J.P., Sean and Catherine's guest list will probably include a number of former Bachelor and Bachelorette stars and Chris Harrison will be hosting their big day as well. The bride-to-be also revealed on GMA that Lesley Murphy, who once vied with her for Sean's heart, will be one of her 12 bridesmaids.
Unlike their fellow reality-TV alums, however, we're told that Sean and Catherine's wedding will not be held in the L.A. area, though they will swap vows in California.
And production is already underway!
"They've shot some footage, a little peek into their everyday lives," our source says.
Also, "the bachelor and bachelorette parties will happen before the new year," the insider adds. "Probably between Thanksgiving and Christmas."
Sounds like this couple is going to have a magical holiday season—and an even happier new year!