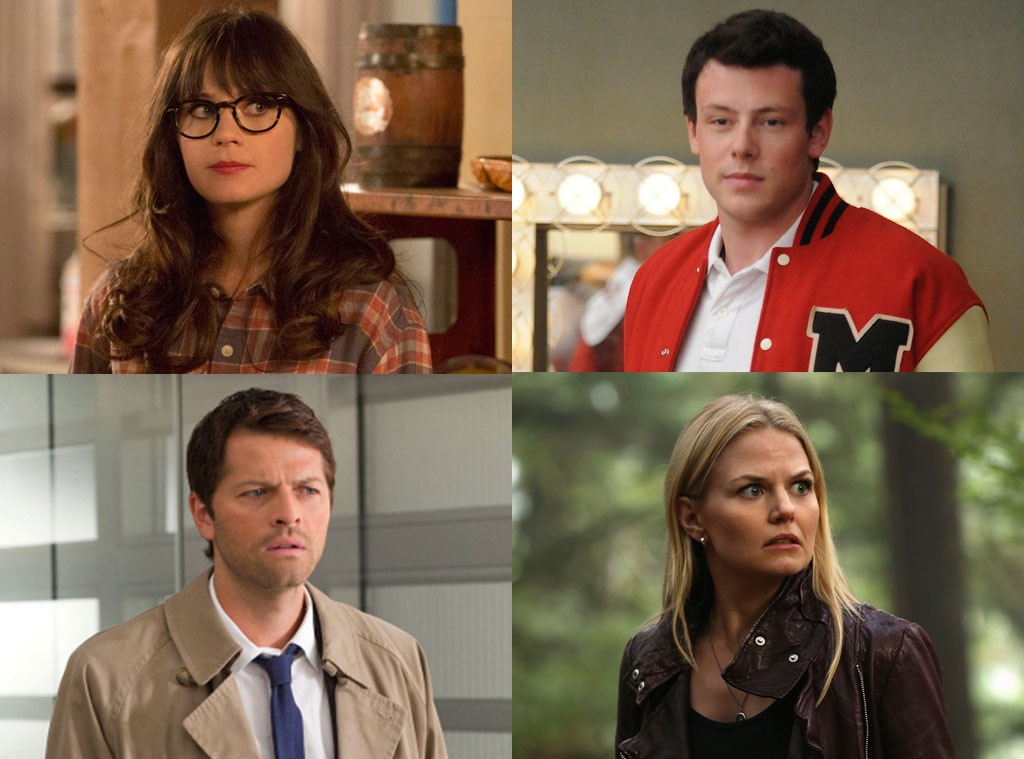 FOX, ABC, CW
The theme of today's Spoiler Chat is L-O-V-E.
Whether it be a lost love, a new love, a family love or a lack of love, today's scoop is packed with the little four-letter word that we're all too familiar with.
Get excited for a steamy new hookup on Supernatural, hear from a scorned ex-lover on Hart of Dixie and prepare yourselves heartbreaking break-up on The Vampire Diaries. Plus, the creators of Once Upon a Time spilled on Rumpstilskin's strained relationship with his father and we chatted with Ryan Murphy about saying goodbye to our beloved Finn. All that and more, coming right up TV lovers!
Julianna: I'm not ready to face this new episode of Glee. Any advice for a sad gleek?
We will never be fully prepared to say goodbye to Finn either, but Ryan Murphy recently shared with us some really sweet advice on how to get through Cory Monteith's tribute episode together. "For people who are fans of the show, and him particularly, I think it would be great if they watched it with other fans because it has that sort of family feel to it," Murphy explained. You hear that Glee fans? Grab your loved ones and a box of tissues before tuning into Thursday's all-new episode, "The Quarterback."
Jamie: I have a Once Upon a Time question. Will we learn more about Rumplestilskin's past with his father?
Why yes, yes we will. We recently chatted with the OUAT masterminds Eddy Kitisis and Adam Horowitz and they promised us that we were definitely dig into Rumple's daddy issues this season. "We've hinted in the past that his father was a coward. His father's name was kind of a something that haunted him and that his father left him when he was younger," Kitsis reveals. "Episode four is called "Nasty Habits" and that will be Rumple's first back story episode of the new season." Can't wait! Hopefully there's some more Rumbelle goodness headed our way too!  
Bryan: Is New Girl doing another Halloween episode this year?
And how! We'll have exclusive photos from the episode for you very soon. But here is a hint on one of the costumes: one of the loft-livers wears what can only be described as a skintight dinosaur costume. Plus, Winston is the only one who gets an invite to Cece's Halloween party, and his roommates question Cece's motives. Oh, and Nick and Jess are dressed in like, the least sexiest couple costume ever.
Kayla: I am beyond pissed at the premiere of Hart of Dixie! How could Zoe do that to my poor Wade?
Trust us girl, we feel your pain—and so does Wilson Bethel! We caught up with him on the Hart of Dixie set and he shared that even though Wade is bummed that he lost his lady love, he's not going to be sulking around Bluebell. "Wade got his feelings hurt but he's also not the type of guy to hold grudges so I think he's pretty quick to forgive and forget," he says. "But it looks at least in the short term that Zoe has moved on so that is kind of a bummer." So what's Wade's new mission? Bethel says with a smile, " I think his M.O. is kind of just giving this dude a hard time as one would when one is hanging around their ex-girlfriend's new fella." FYI punches may be thrown…
Dean: I'll take anything I can get on The Vampire Diaries!
Break out the Taylor Swift CDs, ice cream and sweats because a couple is heading for Splitsville in a few episodes. And yes, it's either Delena or Forwood.
Zoe: Brooklyn Nine-Nine is my favorite comedy on TV right now! Sorry, Mindy and New Girl. Got any scoop on what's coming up?
Mindy and New Girl just texted us, and they are both so mad about what you just said. But we aren't here to judge, we're here to spoil. Brooklyn Nine-Nine is doing a Thanksgiving episode this season, and you know what that means…time to meet some family members! Viewers will get to meet Rosa's older sister, who is a lot like the tough-as-nails detective in many ways. And Rosa's sweet spot will be revealed in this episode in the form of a certain young niece.
Taylor: So happy Supernatural is finally back in my life. Hit me with some scoop!
One of the fellas is getting laid! Oh, you want us to be more specific? Oh, OK. What if we told you that Castiel will finally be getting some action? Our former angel will be doing the deed for the first time in an upcoming episode! Hmm…we wonder who the lucky lady could be?
Helen P.: Counting down the days until Grimm premieres. Help a sister out with some spoilers?
The premiere is on Oct.25 so only….a number of days to go! Math is hard for us. Anyway, episode nine is titled "Red Menace", and we'll meet a pretty Russian woman who has an intriguing connection to the big bad in the episode. She's also quite the flirty one, so Nick should definitely watch his back…and his front. Zing!