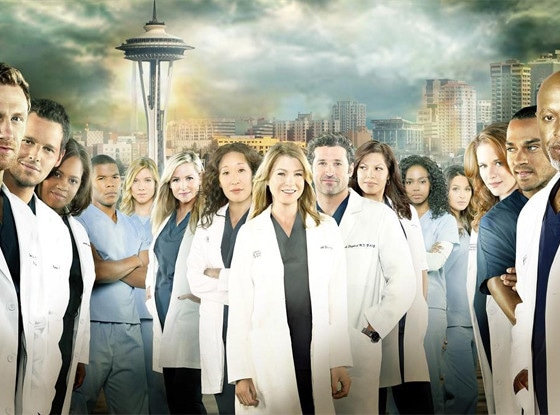 ABC
Sorry to remind Grey's Anatomy fans, but Sandra Oh is leaving after this season. We're not trying to pour salt on the wound; we're just trying to prepare you. Much like Oh did when she told the cast she was leaving the ABC drama series that she's been with since the beginning.
"I remember when I announced it to my cast, it was the 200th episode and after our read-through—which was fantastic, I stood up and told everyone," Oh reveals to us exclusively during an event celebrating the series' milestone. "I did not want anyone to know through a press release or something like that. I wanted to tell everyone personally. It was tough."
And if you think you'll be put through the ringer this season as we head toward Cristina's exit, just wait until you hear how terribly Oh is handling it.
"I'm going through so much therapy, by the way, to get through this. I'm not joking!" she tells us. "Not only to make the decision, but to actually process it out. It's been very, very emotional."
When we chatted with the great Shonda Rhimes about Oh's departure, she was either in deep denial, or just playing it smart.
"Right now I'm not going to miss her at all, because we have her for the entire season. But when the time comes, I'm sure it's going to be hard," she says. "We're not writing her off yet because we still have 22 episodes to go, but when we get there, I'm sure it's going to be a difficult thing and I think it's going to be really moving and I'm looking forward to writing it myself."
Watch:
"Grey's Anatomy" Celebrates 200 Episodes
Kevin McKidd, who plays Cristina's on-again, off-again lover Owen, tells us he wasn't blindsided by Oh's announcement, but he certainly wasn't happy about it either.
"I was really bummed. I knew it was coming, I think, because Sandra and I spent so much time together the past five years," he says. "So I wasn't that surprised, but I'm just really sad about it." As for those emotions building up inside the actors and actresses of Grey's Anatomy as the season heads toward Cristina's exit, McKidd thinks they'll be useful this season, especially when it comes to Owen and Cristina's final scenes.
"I think we'll be using a lot of that in our characters. People are dealing with the loss of this doctor who was such an integral part of the fabric of this hospital," he muses. "I imagine it's going to be pretty complicated and emotional for Owen. I don't think Owen is ready to give up. Cristina's made this decision that they should break up, he's signed off, he's agreed. I don't think he's really ready. I think he's being a guy about it. He's not really saying how he really feels. But when it comes to D-day, he's going to be in a world of pain, I think."
What say you, Grey's Anatomy fans? How will you handle Cristina's final episodes?