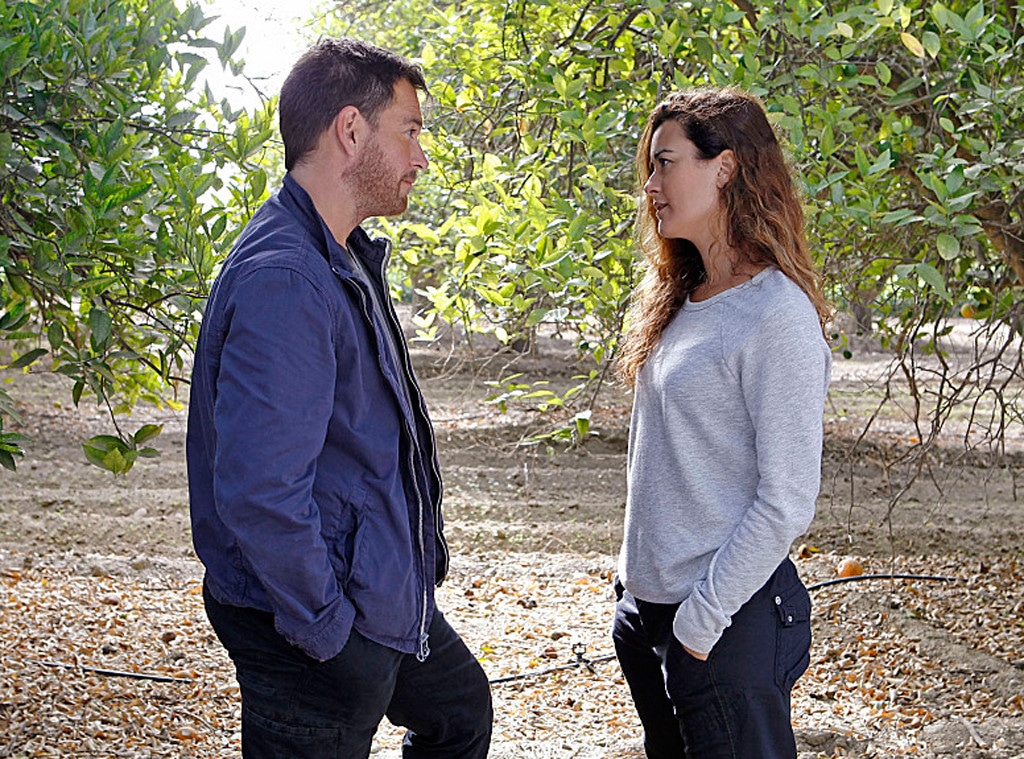 Sonja Flemming/CBS
Spoiler Alert: Do not continue reading if you've yet to watch NCIS's goodbye to Ziva on Tuesday night. Seriously, we meant it, spoilers are ahead! So no going down to the comments and complaining about us ruining your night. House rules!
Sniff, sniff.
No, we're not crying. A tree branch just fell in our eye while we were cutting a red onion, that's all! OK fine, you caught us, we're still recovering from NCIS' final goodbye to Ziva (Cote de Pablo), the beloved former Mossad operative who has been on the team for the last eight seasons. Though fans have been preparing for (and dreading) this episode since Pablo announced she was exiting the series July, we're sure it was still a punch to their emotional gut. 
While we knew Ziva wouldn't be killed off, it was still oh-so-very-hard to watch her go, especially after finally getting to see her and Tony (Michael Weatherly) kiss. Yes, "Tiva" had their first kiss in Ziva's last episode "Past, Present and Future." Oh TV Gods, you are so cruel!
On his quest to find Ziva in Israel, Tony meets Ziva's childhood friend, who later reveals that she was in love with Ziva's half-brother Ari (Rudolf Martin) and he was going to propose before she killed him. "Ziva begged me to forgive her, but I could not." As for why she lied to Tony earlier about Siva's whereabouts? "Why should she have the man that she loves when she took mine from me?" Buuuurn.
After two months, Tony isn't willing to give up on finding Ziva. "I just need to go off the grid for a few days to follow this lead," he tells Gibbs (Mark Harmon), before logging off his computer...and turning to Ziva! But this isn't exactly a happy reunion. "I did not want you to find me, and yet you did," she tells Tony. "You should not have come." So where'd he find her? The house where she was born. And could possibly be reborn.
"The center of all this pain is me," Ziva says of all the losses she believes she's caused, and Tony tries to convince her that she can start over. He then makes his big move, asking her to come back to DC. "I just want you to come home with me," he pleads. "I know you want to change. I can change with you. I'm fighting for you, Ziva."
But she can't go with him and the two share a final goodbye at the airport, where Tony asks what he should tell the team about why she's not coming back. Ziva says, "I had to start over." "Tony, you are so loved," Ziva tells him, before the two finally, finally, finally kiss. (Did we say finally yet?!) The last thing he says to her? "This was not easy. Hardest 180 of my life." (Oh, and who was her message 'Stop this for him' about?" It was for Gibbs as she wants to honor him! Sob! The episode's ending? A solemn Gibbs answering the phone and saying, "Hey Ziva." Tears everywhere!)
Pablo recently opened up about her shocking exit, saying it was "wonderful" to leave the show on her terms. "As far as my decision to leave, that's a personal thing, and I'd rather leave it at that," she said. "The idea of leaving was not something I toyed around with for a long time. It was an overwhelmingly hard thing—at times, terrifying." She also revealed she's open to returning to NCIS in the future, explaining, "The greatest thing about this last episode is that Ziva doesn't die. As long as a character doesn't die, the character can always come back. Not that it would actually matter, because we bring back characters from the dead all the time on NCIS!"
Looking ahead, fans can expect to meet Pablo's possible successor in November: Emily Wickersham is set to play Bishop, a new agent who is bright, athletic, focused and a bit socially awkward. The Sopranos actor is currently set to appear in three episodes.
What did you think of NCIS' goodbye to Ziva? Are you happy with how "Tiva" parted? Sound off in the comments!