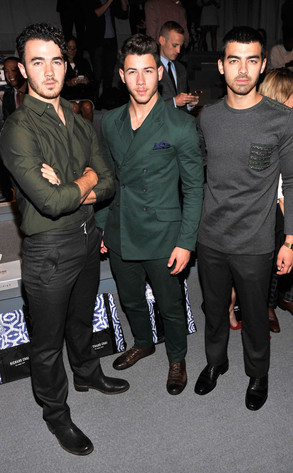 Stephen Lovekin/Getty Images for Mercedes-Benz Fashion Wee
It looks like we can add the Jonas Brothers to the seemingly never-ending list of famous folks commenting on Miley Cyrus' provocative performance at the 2013 MTV Video Music Awards.
"It wasn't my favorite performance of hers," Joe Jonas tells Out magazine. "I think that there's one way of saying you've grown up, and there's another way—I think that's her way."
But he was quick to add, "Look, people are talking about it, so I think it's working for what she wants."
And Nick, who once dated Cyrus, noted, "She's smart. She's very smart. We've always known that about her. She'll always be successful."
As for the "Wrecking Ball" singer's unforgettable moment at the VMAs, Cyrus' ex admitted, "[The performance] was funny — I was laughing."