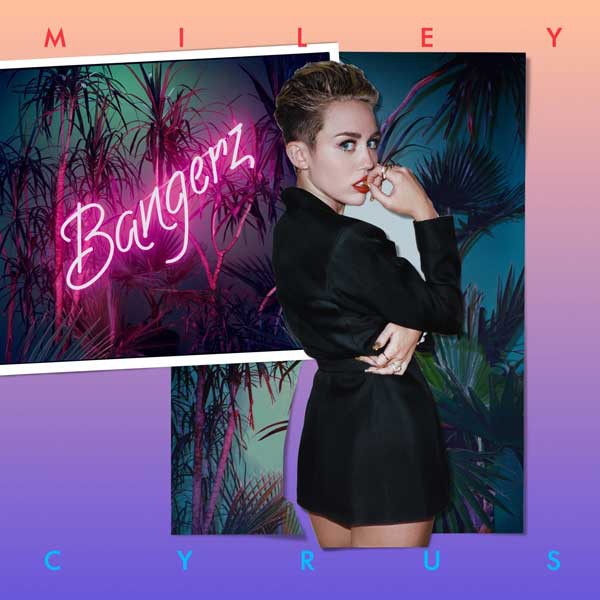 RCA
Miley Cyrus' Bangerz debuted early on iTunes Sept. 30, allowing fans to stream the album in its entirety eight days before it's available for purchase. The disc—which features collaborations with Britney Spears, Nelly, Big Sean and others—is already proving to be as polarizing as the singer herself.
USA Today's Elysa Gardner gives the album 2/4 stars and says it's no surprise that Bangerz is "a collection of competent, mostly generic tunes that juggle self-conscious sass with glimmers of earnestness." She does praise several tracks, however, including "#GETITRIGHT" and "Adore You."
More reflective songs, such as "Someone Else" and "My Darlin'" show a softer side of Cyrus, according to Gardner. "After all this time, crying in public may come naturally to Cyrus," she concludes. "But in its predictable mediocrity, Bangerz gives her, and her followers, nothing to feel bad about."
The New York Daily News' Jim Farber gave Bangerz 2/5 stars. He says Cyrus' latest effort feels like a "disjointed mess that seeks to provoke instead of delight." Ouch.
Even when Farber gives Cyrus props, it feels like a backhanded compliment. "In the best hip-hop track, '4 X 4,' she offers a guest shot from Nelly, who rides the beat with a musicality she can't match," he writes. "Whenever Miley goes for such raw sexual moments, it sounds nearly as forced as that MTV performance looked."
Farber says the pop star "goes for fully earnest emotion" in several ballads, but adds that "at times it's hard to determine her actual effect. There's enough machinery tricking up her vocals to launch a mission to Mars."
The song "FU" is somewhat out of place, in Farber's opinion. He writes that the track "luxuriates in solid retro-pop, referencing the tragic grandeur of Dusty Springfield. In songs like this, you can hear the richer qualities in Miley's voice that might be nurtured in a less cynical project."
Despite the somewhat harsh reviews, the record's co-executive producer, Mike WiLL Made It, tweeted that he believes Bangerz is the "Album of the Year." Cyrus' fans, it seems, are in agreement.
"if you're hating on bangerz you need to get your ears checked and then come back to me," user @codyjohnathan tweeted. Twitter user @lanasus echoed, "bangerz is a really good album, and if you dont say so youre lying."
Dance artist Brandon Hilton is also a Bangerz fan. "I love that theres so many different genres on this album @MileyCyrus!" he tweeted. "this truly IS the album of the year! #BANGERZ #GetIntoIt."