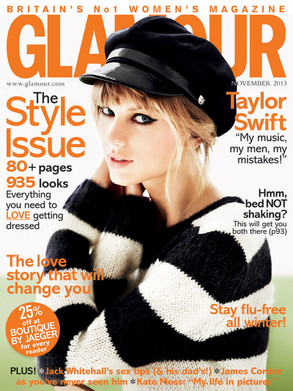 Glamour UK
Taylor Swift's latest interview with Glamour U.K. reveals the singer's opinions on deal-breakers, cheating and even dating outside of the Hollywood bubble.
But one subject she speaks a great deal about is being a role model.
The country crooner opens up about being under pressure and subjected to a public-scrutiny media storm—similar to the one that Miley Cyrus finds herself in the center of.
"There's room for role models who make mistakes," she confessed. "There's clearly room for role models who are made fun of at award shows, not that I necessarily enjoy being poked fun at! But that's gonna happen to them too."
Hmmm…seems as though the "22" singer is speaking about Cyrus' shocking MTV VMA performance late last month, right?