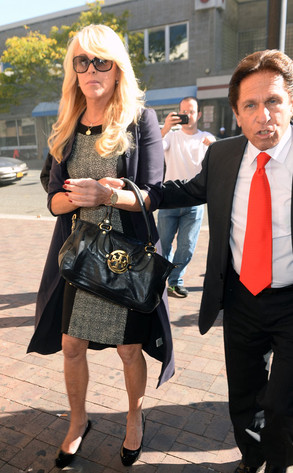 Elder Ordonez/INFphoto.com
Dina Lohan is maintaining her innocence. Accompanied by her attorney, Mark Heller, the 51-year-old appeared at Nassau County District Court in Long Island, N.Y., on Tuesday, Sept. 24. Lindsay Lohan's mom pleaded not guilty to DUI charges stemming from her Sept. 12 arrest.
Judge Joy Watson granted Dina release to supervised probation. Dina then surrendered her driver's license and left the court in a chauffeured silver Rolls-Royce. She is due back in court on Oct. 23.
Twelve days ago, Dina was pulled over for speeding on the Northern State Parkway on Long Island. She was subsequently arrested on suspicion of driving while intoxicated. A sobriety test revealed she had a blood-alcohol level of .20 percent, more than twice the legal limit.