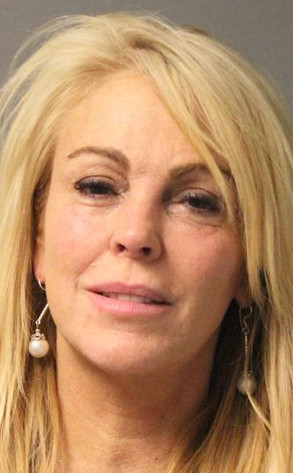 Dina Lohan has been busted for DUI.
Lindsay Lohan's 50-year-old mom was arrested in Long Island last night after being pulled over in her BMW by the cops for speeding, E! News confirms.
Dina was stopped around 11 p.m. for driving 77 miles per hour in a 55 zone. Police administered a blood alcohol test, which she failed for having more than twice the legal limit in her system (.20). She was then booked at a local station.
According to the New York State Police, after being taken in to a local station, "Lohan made an allegation that she was injured during the course of the arrest. State Police called an ambulance to have Lohan evaluated. When emergency personnel arrived and evaluated Lohan, there were no injuries, and she recanted her claim."
In her mug shot, Dina looks visibly upset after being arrested. She was later released to a third party and issued two tickets for DWI and aggravated DWI.