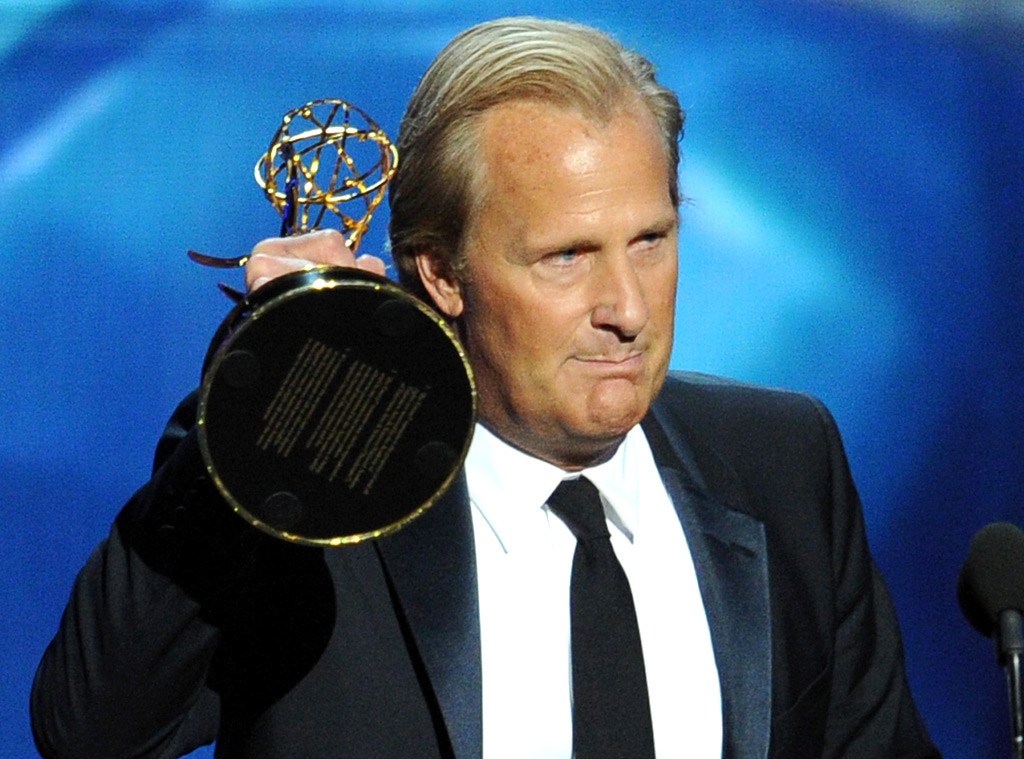 Kevin Winter/Getty Images
News flash! Jeff Daniels is one happy guy.
The 58-year-old actor, who won a Best Actor Emmy Sunday night for his role in The Newsroom, told reporters backstage that his victory celebration would be brief as he's about to reunite with Jim Carrey and start work on the eagerly anticipated sequel to Dumb and Dumber.
"We're going to party 'til dawn and then I'm going to get on a plane and go to Atlanta and start shooting Dumb and Dumber To," Daniels said. "The intellectual free-fall from [Will] MacAvoy to Harry Dunn, imagine if you will."
The Hollywood vet had earlier confessed that he didn't expect to hear his name and kept his feelings "neutral" given the tough competition in his category, which included frontrunner Bryan Cranston for Breaking Bad.
"I've been nominated a bunch of times, Google it. So I've been kind of trying not to lean towards it and hot to hope too much. There were six of us nominated, there easily could have been ten of us," he said.
Daniels also revealed that fans of Aaron Sorkin's hit HBO series can expect to see him back at the anchor desk for a third season.
"We're going to come back, we just don't know when yet," the thesp said. "They're trying to work it out with Aaron and HBO and is deciding when they want to air it."
He added: "I was about to do Leno and so we called HBO and said what's up? What if it comes up, what do I say? And they said absolutely say you're coming back, you just don't know when, so that's what I tweeted."
When asked what's the scariest thing and the best thing he's looking forward to with shooting Dumb and Dumber Too, the Newsroom star grinned mischievously.
"The scariest thing? There are some things that's we're going to do in Dumb and Dumber To that make the toilet scene [in the original] seem lame. Pales in comparison and I can't divulge what, but just that they've topped it. They best thing about it? I get to work with a comedic genius."
Of course, Daniels was referring to Carrey, but given he generated his share of laughs as well in the 1994 comedy, he couldn't resist cracking wise about his age upon taking the podium to accept his trophy last night.
"The last thing I won was a few years ago for Squid and the Whale," Daniels quipped. "I won the Best Actor Over 50 from the AARP. With all due respect to the AARP, this is better."
That subsequently prompted this snappy congratulatory tweet from the American Association of Retired Persons.
"With all due respect, @Jeff_Daniels, we're cool with you moving the Barcalounger over for the #Emmy," AARP wrote on Twitter, including a twitpic of the actor with the caption: "This Just In: Congratulations to Jeff Daniels for his Emmy-winning performance in The Newsroom!"
No doubt, Daniels keeps getting better with age.
—Reporting by Leanne Aguilera