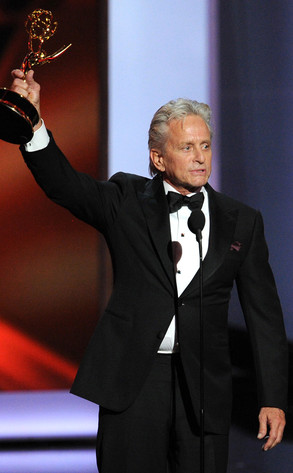 Kevin Winter/Getty Images
Michael Douglas won!
The 68-year-old actor received the Emmy Award for Outstanding Lead Actor in a TV Miniseries or Movie for his portrayal of flamboyant pianist Liberace in the HBO film Behind the Candelabra, and Douglas sure knew how to give a speech that will be remembered.
First, he had to poke fun at his costar (and fellow nominee) Matt Damon, who plays his gay lover in the film.
"Obviously there's one nominee in particular that I really have to thank. This was a two-hander, and Matt, you're only as good as your other hand. So, I can't tell you…you were magnificent and the only reason I'm standing here is because of you. So you really deserve half of this. Do you want the bottom or the top?"