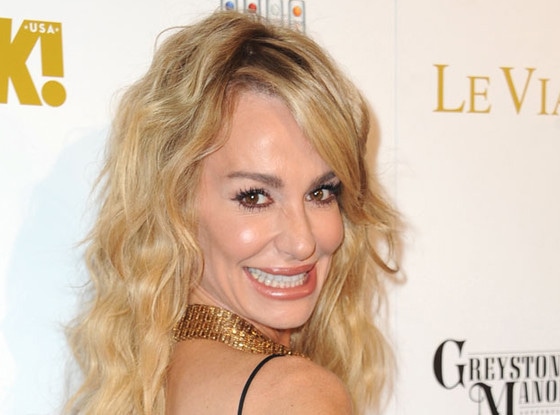 Allen Berezovsky/Getty Images
When we exclusively revealed the cast photo and trailer for Real Housewives of Beverly Hills' fourth season, a lot of fans were wondering why original castmember Taylor Armstrong was noticeably missing. Well, now we have an answer.
Armstrong, who has been with the Bravo reality series since 2010, is officially no longer featured as a full-fledged Housewives castmember, a source tells E! News exclusively. Not only is Taylor Armstrong not billed as main cast, but viewers will be hard-pressed to catch a glimpse of her at all in the new season.
"Taylor is not returning as a Housewife," our source says. "You'll see her here and there in a few scenes, but that will be the extent of her participation."
RHOBH just added Joyce Giraud and Carlton Gebbia to the cast, so there will be no shortage of ladies or drama in season four.
"I think the way I would describe it is it's still a school playground, but they're older," Gebbia told us in a exclusive sit-down. "Nothing's changed. Not one bloody thing."
Back in June, we reported that Armstrong was filming less and less for season four, probably due to her full schedule of planning her wedding to John Bluher.
"Taylor's been filming, but barely," an insider told us. "And she's no longer on salary. Her current deal is pay-for-play. She only gets paid for the days that she shoots. As of now, that hasn't been a lot."
The new season of Real Housewives of Beverly Hills will premiere on Monday, Nov. 4 on Bravo.
Will you miss Taylor Armstrong on RHOBH?