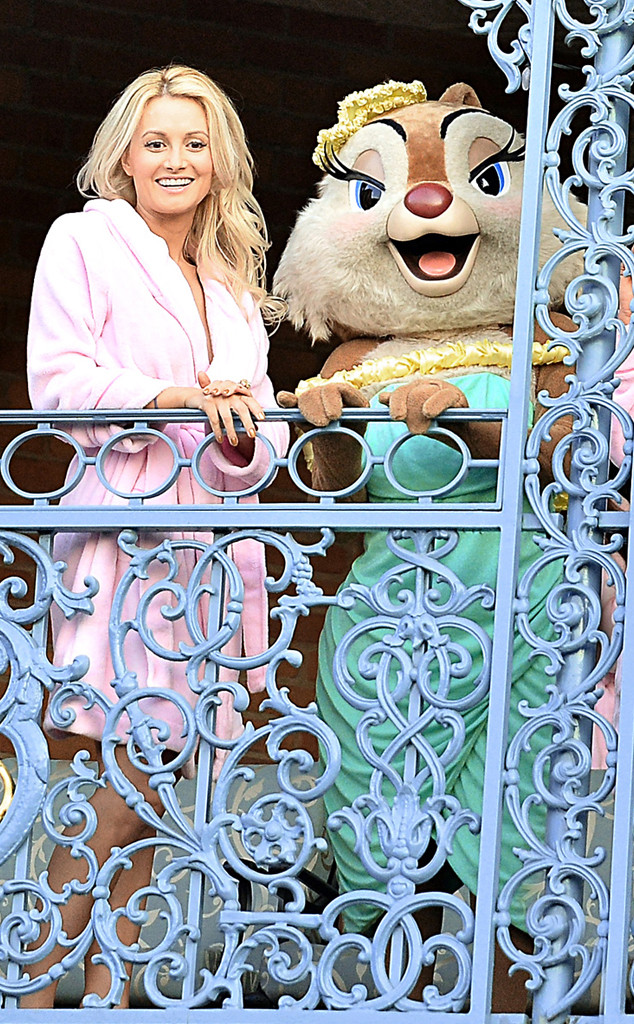 Splash News
Holly Madison's wedding was fit for a Disney princess.
The former Girls Next Door star got married to her beau Pasquale Rotella last Tuesday, in a whimsical ceremony held at none other than the happiest place on earth—Disneyland! And her special night was everything the blond beauty hoped it would be.
"It was just amazing," Madison told E! News at the Runner, Runner premiere in Las Vegas last night. "We had our own Fantasmic! showing and we had the reception in New Orleans Square."
The recent bride also shared that they "got married in the restaurant that's inside Pirates of the Caribbean after the park closed. Everybody got to go on the ride as we were taking pictures after, it was really fun."
Holly decided to have two dresses for the occasion, one for the actual ceremony and another for the reception. "[Designer] Gregg Barnes was for my wedding dress and my reception dress was Roberto Cavali. So one was like a full princess dress and one was more sleek, so I had a variety," she tells us.
Madison admitted that her nuptials was not a star-studded event, but that's exactly how she wanted it. "I kind of pride myself on having no celebrity friends," she jokes.
The couple's beautiful daughter Rainbow Aurora was part of the celebration, and Holly tells us that she's ready to give her little girl some siblings!
She tells E! News, "She definitely needs a brother or sister! Maybe next year, I am thinking."
The park shut down early for the very special occasion and the ceremony got underway at the Blue Bayou restaurant in New Orleans Square, shortly after 9 p.m. Nearly 150 people were present to witness the joyous event, including Mickey and Minnie Mouse and Donald and Daisy Duck, who were said to be involved at the cake-cutting.
Sounds like the night was nothing short of a fairy tale.