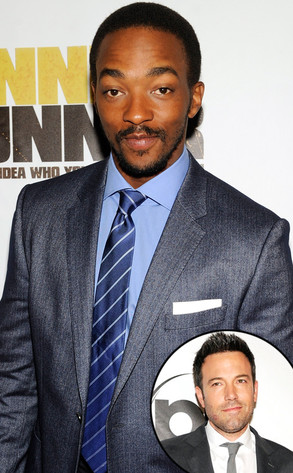 David Becker/Getty Images
Having just filmed his role as the first African-American superhero, Falcon, in the upcoming sequel Captain America: Winter Soldier, Anthony Mackie can speak with some authority on the subject of comic book blockbusters.
So when E! News caught up exclusively with the 34-year-old actor at Wednesday's premiere of his new thriller, Runner Runner, in Las Vegas, we couldn't resist asking him if he had any advice to give costar Ben Affleck now that the latter is going to be playing Batman in the Man of Steel follow up.
"I said punch harder and he will win every fight," Mackie told E! News.
Not that Affleck needs the input. After all, the Oscar winner has experience in the genre, having starred as the titular hero in 2003's Daredevil. And despite mostly negative reviews for that film, he is not in the least concerned about the controversy over him donning the cape and cowl, telling Jimmy Fallon recently that he's "a big boy" and "very tough."