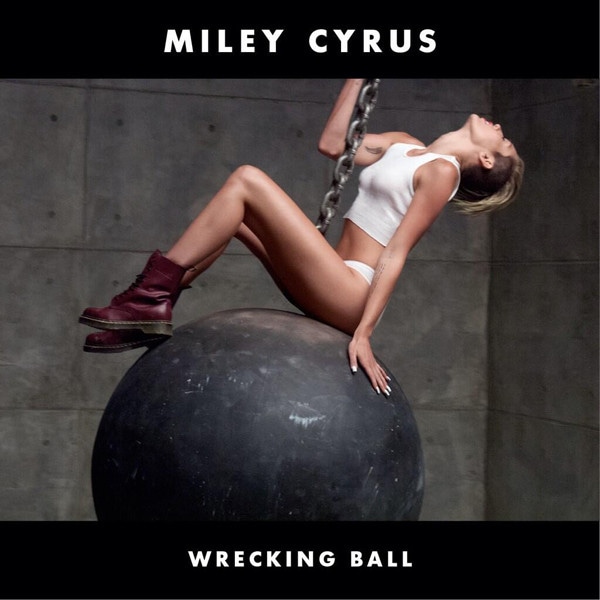 rcarecords
A swinging success!
Miley Cyrus' "Wrecking Ball" knocked Katy Perry's "Roar" out of the top spot on the Billboard Hot 100 charts, jumping 21 spots since last week. It's an especially impressive feat for the 20-year-old pop star, given that her other biggest hits—2009's "Party in the U.S.A." and 2013's "We Can't Stop"—only made it to No. 2.
Though her fourth studio album Bangerz doesn't drop until Oct. 8, Miley has been breaking records left and right in the last week alone. After the "Wrecking Ball" music video was released on Sept. 9, it delivered more than 100 million views in a mere six days. Concurrently, the track hit No. 1 on Spotify, where it had over 2.5 million streams in the United States.
The former Hannah Montana star boasted about her accomplishments on Twitter Sept. 18, writing, "#1 on Billboard. #1 on iTunes. #1 on Spotify. #1 on Streaming. #1 on Digital songs. #1 most added to pop radio. #1 on VEVO. #WreckingBall"
Miley—whose new album features collaborations with Britney Spears and Nelly—is the first musician in her family to reach the top of the charts. Dad Billy Ray Cyrus is perhaps best known for his 1992 hit "Achy Breaky Heart," though it peaked at No. 4. Her brother Trace Cyrus, meanwhile, reached No. 10 in 2008 when his former band, Metro Station, released "Shake It."
The news couldn't come at a better time for Miley, given that her ex-fiancé Liam Hemsworth was photographed kissing Mexican singer-actress Eiza González just one day after the pair called it quits.
Chin up, Miley—they say success is the best revenge.
Tune into E! News tonight at 7 p.m. and 11:30 pm. for the latest on Liam Hemsworth and to see all of the exclusive photos from his steamy makeout session!