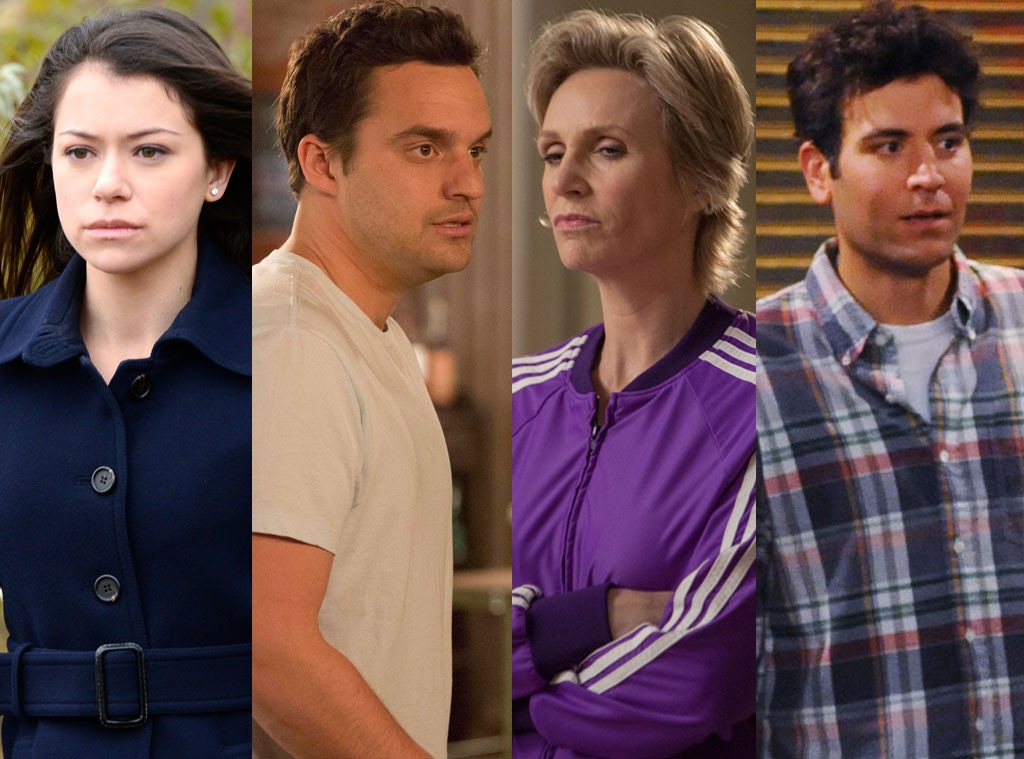 BBC, FOX, CBS
When you put together a fan-favorite couple, what comes next? Love? Marriage?
Well, we're about to find out on New Girl! Nick (Jake Johnson) and Jess (Zooey Deschanel) are officially together, and we have the scoop on how that whole situation is working out in the beginning of the new season.
And guess who's getting a new love interest on Orphan Black? All that, plus info on Glee, How I Met Your Mother, American Horror Story and more in today's Spoiler Chat.
Amanda: I have a feeling that New Girl is going to break up Nick and Jess, so please help me sleep at night by telling me that's not true.
We can't say it's forever not true, but it's definitely not happening in the first four episodes. In fact, in the fourth episode, Jess will be relying on one of her roommates for lessons on how to please Nick in the bedroom. Oh, my! Guess whom she goes to? The man who knows Nick best, and thus probably knows what he likes between the sheets: Schmidt.
Ingrid: Hardcore member of the Clone club over here, so any Orphan Black spoilers would be more appreciated than Alison appreciates headbands.
If you ship Paul and Sarah, then you'd better avert your eyes for this next part. In season two, a new dude is joining the cast, and he'll definitely be giving Paul a run for his money in terms of chemistry with Sarah. Remember all those hot love scenes between Paul and Sarah? Think along the lines of that. Players gonna play, right?
Yolanda: Loved the Glee story about Kurt and Blaine! You're right, it's nice to see something happy on the set after Cory's tragic death. Do you know what the atmosphere on set has been like? If anyone knows, it's you guys!
Well actually, if anyone knows, it's Jane Lynch. We asked her what it's been like going back to work after losing Cory Monteith so suddenly over the summer, and she got visibly choked up. "It's tough," she tells us, adding that even she doesn't know how they are going to write Finn off the show. "We have to deal with it in the story. I don't know how we're going to do that, but it will soon be revealed." On a lighter note, we were the ones who broke the news to her that Demi Lovato will be joining the cast in season five. Lynch was happy to hear about the addition to the show, gushing that The X Factor judge is "wonderful!" And we're also excited to hear that Demi's character will reportedly be singing "Here Comes the Sun" with Santana.
Katy in Indianapolis: Where is the info on How I Met Your Mother? It's the final season, you know!!
It is?! Where have we been? Oh, that's right. We've been obsessing over whether or not 'N Sync will reunite at the MTV Video Music Award this year. Hopefully, by the time you guys read this, all the members of 'N Sync, from Justin Timberlake to Chris Kirkpatrick, will have confirmed it. Fingers crossed. Now...what were we talking about? How I Met Your Mother. Right. Anyway, we can't spill much scoop at this point because when we talk to the cast, they either don't know or aren't telling. We just chatted with Josh Radnor, who says he chooses not to know because it helps him perform better as Ted. So he has no idea how it's going to end. "I try to not know too much because I have to play him without knowing," he tells us. "I'm not the narrator, I'm the present day. I don't have all the facts." And in case you guys were hoping that by some miracle the CBS comedy will tack on one more year, Radnor insists the time is right. "You don't want to overstay your welcome on series television," he says. "I feel like we're leaving at a high point, and I feel like the series is as loved and popular as ever. And I feel like they can wrap up the story in exactly the way they want to, so it feels good to me."
Sara: I can't wait for American Horror Story: Coven to finally premiere! Any new witchy updates?!
We previously told you that the legendary Jessica Lange will be playing an extremely powerful witch named Fiona, as well as mother to Sarah Paulson's character, Cordelia. So when we caught up with Paulson, we were determined to find out the wicked truth on whether Cordelia will also follow in her mother's magical footsteps as a witch. The actress was coy, teasing, "I don't think I'm allowed to tell you that.' However, Paulson did reveal that this new season is "going to be a little more fun" that past seasons, which have been pretty terrifying. 
Danielle: How about some love for Baby Daddy fans?!
How about we give you some exclusive casting scoop!  Are you feeling the love yet? Prepare to meet Sydney, a brand-new girl in season three played by ABC Family alum Aimee Carriero. Sydney is a fun, adventurous girl who is enjoying life in the city to the fullest. Although she's a sweetheart, she definitely has some fight in her! When pushed or annoyed, she can go toe to toe with the toughest of them. Yikes! Sydney will be sharing scenes with Ben and Tucker when the Baby Daddy returns next year.