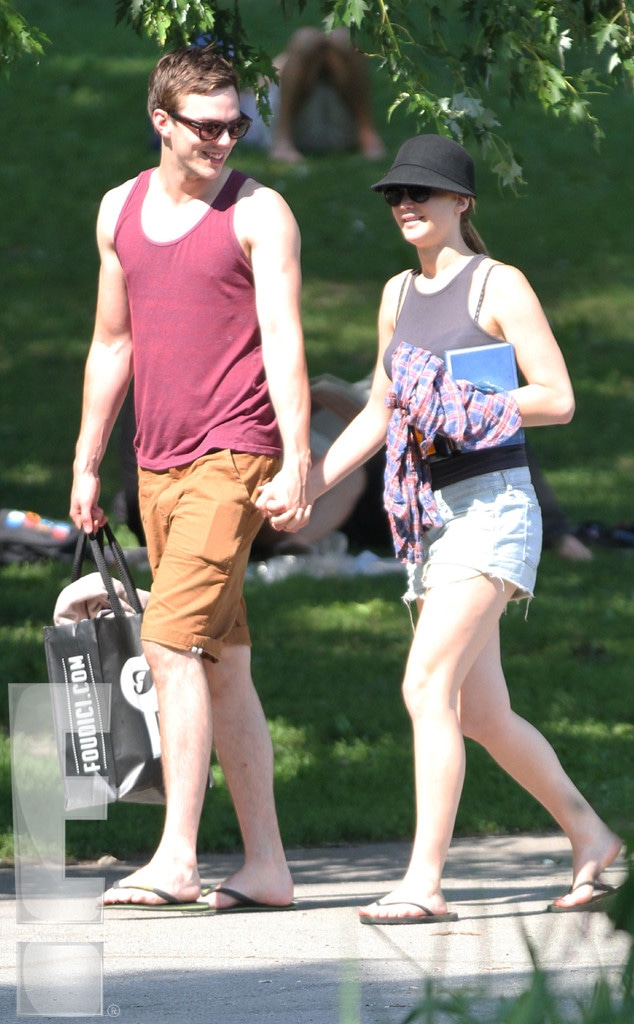 Sultana / Ultrawig / Splash News
Jennifer Lawrence and Nicholas Hoult are back in action.
Judging by how much they seemed to be enjoying each other's company at La Fontaine Park on Tuesday afternoon in Montreal, the X-Men costars—who remained friendly and sweetly supportive of each other after breaking up earlier this year—appear to have rekindled their romance.
The still adorable duo, each clad in shorts, tank tops and shades, held hands as they walked along and then shared a bottle of champagne and a salad while stretching out on the grass.
Lawrence rested her head on Hoult's stomach as she paged through Mockingjay, the final book of The Hunger Games trilogy (so she was mixing a little business with pleasure, no big deal), while her beau used his iPad.
A source tells E! News that the pair were very touchy-feely, laughed a lot and seemed really comfortable together.
Sultana / Ultrawig / Splash News
Not that any of this comes as a surprise: Lawrence and Hoult have spent a fair amount of time with each other off-camera while X-Men: Days of Future Past has been shooting in Montreal.
They joined their castmates for a private screening of The Butler (and totally sat next to each other) over the weekend, and they were spotted arriving at the X-Men wrap party together, Mystique intimately holding Beast's arm.
Hoult also joined Lawrence and her brother on an outing back in June, sparking conversation at the time that the pair were already back to being more than friends.
—Reporting by Michelle Falls
For more exclusive details on Jen & Nicholas' rekindled romance—and to see more pics of their romantic day in the park—tune into E! News tonight at 7 p.m. & 11:30 p.m.