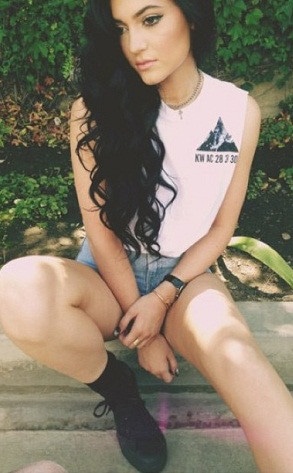 Instagram
Is it just us, or does Kylie Jenner already look more mature?

After a weekend of festivities to celebrate turning 16, the young Keeping Up with the Kardashians star uploaded a post-birthday Instagram pic. Rocking some rare curly locks, Kylie looks pensive in the pic, which was snapped while she was hanging out on mama Kris Jenner's set.

What's really striking about the photo, though, is how different Kylie looks! Perhaps it's the hairstyle or the angle, but commenters on Instagram have compared her to sisters Khloé Kardashian Odom and Kourtney Kardashian, as well as "a mix of Emily and Aria from Pretty Little Liars."

But we would like to offer another complimentary comparison: Kylie looks a bit like Glee star and family friend Naya Rivera in this pic, doesn't she? It would make sense, considering that Naya has drawn comparisons to Kim Kardashian of late!

Speaking of Naya, the actress/singer was in attendance over the weekend at Kylie's sweet 16 birthday party, where Naya's boyfriend Big Sean performed along with Drake. Kourtney snapped a pic with Naya and family friend Joyce Bonelli in their Wonderland-themed outfits.

We're just wowed by Kylie's mature, gorgeous look in this pic. Whom do you think she looks like?

Catch Kylie and the rest of the family on an all-new Keeping Up with the Kardashians, Sunday at 9/8c on E!