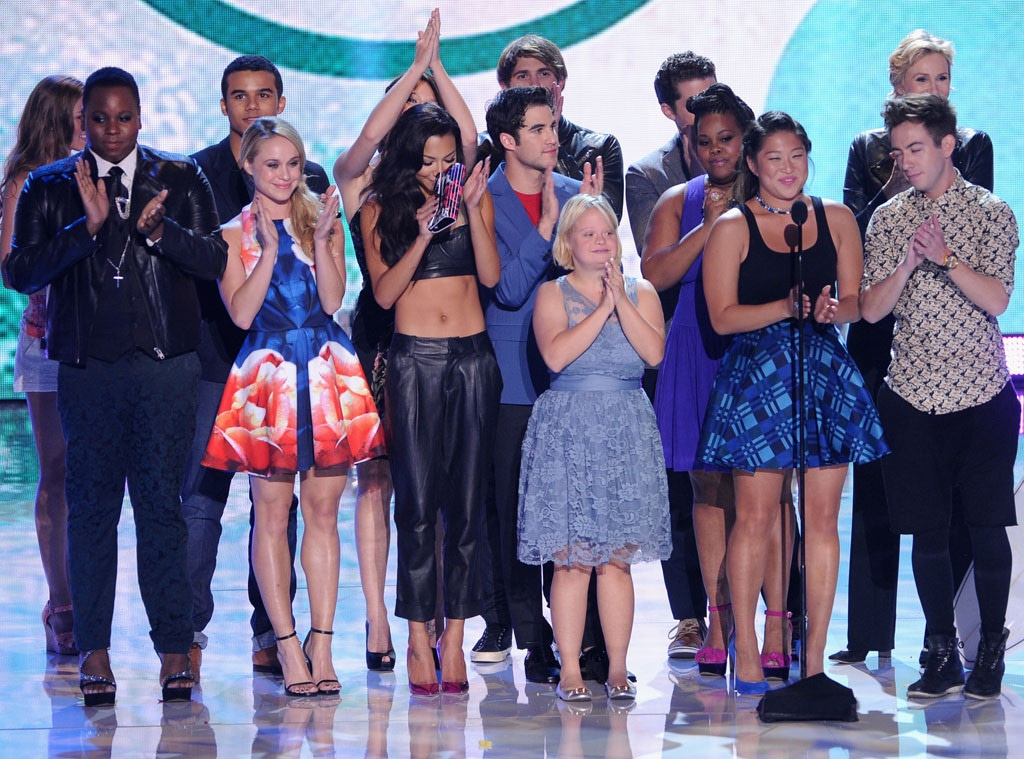 Kevin Winter/Getty Images
The stars shined bright Sunday afternoon as Young Hollywood came out to celebrate the 2013 Teen Choice Awards.
We caught up with Glee stars Blake Jenner, Alex Newell and Melissa Benoist on the blue carpet and they shared exclusive details about being back on the set of the Fox hit series, their "amazing" costar Lea Michele and remembering Cory Monteith.  
Watch:
Blake Jenner Skips Wedding Talk at Teen Choice Awards
Throughout the night, many stars snatched up their teen-picked surfboards trophies, but no one delivered a more eloquent or touching speech then Glee's Lea Michele about her late boyfriend's sudden and tragic passing. Dressed in a gorgeous pink number and proudly wearing a necklace that read "Cory," Michele took the opportunity to thank the Glee fans for their overwhelming support.
Glee newcomer and the Teen Choice winner for Male Breakout Star, Jenner says he is proud to have such a strong costar. "[That was] such an emotional speech, but you know what, she's amazing and I'm glad that everybody got to hear her words because everybody through her words got to see a glimpse of the real Cory Monteith," Jenner says.
And while the rumored-to-be-engaged star stayed hush-hush on all his upcoming wedding details, he did share a super sweet Monteith memory with us. The 20-year-old actor reveals, "We on Glee were so blessed to have known him and so blessed to have spent time with him. I mean, the dude took me snowboarding and he gave me so much advice both on work and personal stuff and he was just amazing. And so I'm glad that like [Lea] said, for the people that only knew him as Finn Hudson, I'm glad that they got to officially meet Cory Monteith, who was just an amazing person."
Last week, per Michele's request, the cast of Glee went back to set to start shooting for the show's fifth season. Newell says that each day is getting a bit easier than the last, telling us, "We have gone back to work and we're just being together and doing everything together and just remembering Cory. I think that's what's give us an extra oomph is to do something that he loved to do every day."
Newell is hopeful that the Glee fans will appreciate Monteith's tribute episode, which is currently set to be the third episode of the new season. "This was a giant part of Cory, and we just doing it, so I hope that they're satisfied with doing it."
Check out our full interviews with the Glee cast in the video above and don't miss the season premiere of Glee Sept. 26 on Fox.